Coach has unearthed new talent, revived veterans, invented new set-piece attacks, and reinforced All Blacks as No 1 team in the world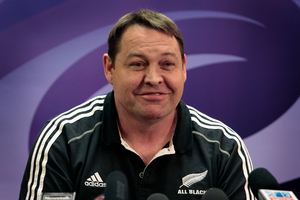 How wrong you can be. A year ago, this newspaper raised doubts over whether Steve Hansen should be the man to take over as head coach of the All Blacks. In an editorial written before the World Cup was won, we wondered if a coach of his irascibility and longevity under the Graham Henry reign would be the right man to take the All Blacks on anew. Suspicions at the time that he would work with failed Chiefs coach Ian Foster did not, then, encourage optimism.
It was a view that was arguably valid at the time but has been invalidated on many levels this year. Hansen has steered the team, and himself, through a near-flawless season. Backed by Foster, Brian "Aussie" McLean and selector Grant Fox, he has rapidly refreshed the All Blacks and created a style almost as impressive as Alex Wyllie's unbeaten side in the year after our previous World Cup victory in 1987.
On the field the team is unbeaten and, combining the tail-end of the Henry era and the start of Hansen's, is on the cusp of equalling the longest test-winning sequence by an All Black side.
Brilliant new talent has been unearthed, veterans revived, new set-piece attacks invented, and the status as the No 1 team in the world emphatically reinforced.
Off the field, Steve Hansen has, if anything, done better. He managed the "will he stay, will he go" dilemma of Sonny Bill Williams with aplomb, not too proud to call on SBW's talents when the team had injury woes after the star player had nominally signed off from the All Blacks.
He was astute in distancing himself instantly from his predecessor's suggestion of match-fixing in the failed 2007 World Cup quarter-final loss. He declined to gloat or goad Robbie Deans over the dismal run of losses the Wallabies have suffered at All Black hands.
Through victories sound and sensational, he has maintained a public determination to improve, to put together a total display. He was correct after the Bledisloe Cup victory to judge the All Blacks' 22-0 shutout as "an inch or two" from a performance of which they could really be proud. That kind of realism, not the false humility of so many voices in professional sports, was welcome.
The New Zealand Rugby Union will be more than satisfied. Confident as its executives and board may have been, it could not have been certain that Hansen's leadership would translate seamlessly to the top job. It backed his plans and personnel, as it had for Graham Henry, and may well have provided unseen support to keep the head coach ahead of the game.
These All Blacks include two of the finest players to pull on rugby boots, vast experience, and in Richie McCaw a peerless leader. It could be argued that such a team coaches itself, but player power can go only so far. In selection, preparation, motivation, and tactics, the All Black coaching team must claim considerable plaudits.
This long season is not over. A dead rubber against Australia looms before four internationals in Europe. Something could yet stop the All Blacks from breaking the record for consecutive test wins.
No matter. A smooth handover has been made between a successful head coach and his protege. The results are already beyond expectations.