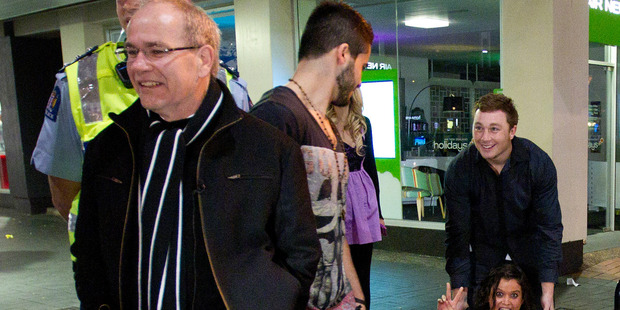 He's only just started and a couple of scantily clad girls scoffing McDonald's in a bus shelter warn Len Brown to watch out for nearby vomit.
It's a continuing theme throughout the Auckland Mayor's 4am trawl of Queen St and neighbouring roads - mess and mayhem.
He is trying to gauge just how disorderly it gets, especially when the bars start closing and patrons congregate on the footpaths, contemplating their next move.
It's usually getting more drinks, which means finding another bar with later opening hours.
And that's when fights begin as drunk people, unable to form orderly queues, run into other bar-hoppers, says Auckland's area commander, Inspector Andrew Coster.
Mr Coster has joined Mr Brown on his walkabout, acting as an adviser, tour guide and at times even a bodyguard as rowdy young people come up to him, wanting to touch him or have a chat about a particular gripe they have with how the city is run.
Also on the trail are members of his mayoral taskforce set up to combat anti-social behaviour in the city, including Heart of the City chief executive Alex Swney, Pacific People's Advisory Panel member Richard Pamatatau and councillors George Wood and Calum Penrose.
The city seems quieter than usual and Mr Brown asks the officer whether the cold weather, about 2C, would have stopped people coming out.
"It doesn't seem to make any difference, believe it or not," he replies.
The six lines at McDonald's are 10 people deep and Burger King and kebab shops in the area are just as busy. Broken glass is strewn across the footpath and people milling about aimlessly.
Some will wait in the cold until 6am when trains start at Britomart instead of learning the night bus timetable.
The taskforce moves to Fort St and then down Fort Lane, where two bars are open until 8am. Mr Brown shakes a lot of hands, talks to security guards and poses for photos.
At one point, Mr Coster has stern words with an inebriated young man who grips Mr Brown on the shoulder.
They also look at CCTV footage from the Auckland Downtown Police Station. Police have 30 cameras positioned around Queen St and Auckland Transport has 100, which the station also monitors.
Mr Brown and Mr Coster drive up to Karangahape Rd. A transvestite in a blue sequined dress, 15cm heels and a blonde wig walks out of the Family Bar and Mr Brown averts his eyes.
Two condom wrappers have been left on the ground by traffic lights. Two woman make several attempts to help up a man lying on the ground, and dozens of girls in short skirts and bare feet sit on the cold concrete, their backs against shop windows.
Empty booze cans litter side streets where clubbers have "pre-loaded" - drinking cheap alcohol before entering a club - a practice police are trying to stamp out.
Most people have been playing up for the media - swearing, saying hello to their mums for the cameras.
So Mr Brown says he'll be back without the group next time.
"I need to be down here and make my own assessments," he said. "By and large, good spirits down here. Sure, a high level of inebriation, and people who've got too much under the skin."
TASKFORCE
PROPOSALS
* Voluntary one-way door policies.
* Better alignment between trading hours and public transport.
* More community-based patrols.
* Better car park lighting and parking limits targeting 'pre-loading' hot spots.
* Instant fines for breaching liquor bans.
* Improved management of queues.
* Stop sale of single-shot drinks.
* Increased visibility of security officers.
* More co-operation between council licensing staff and police.