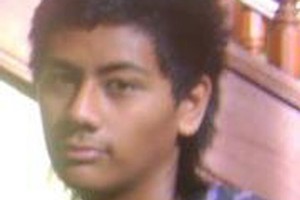 The man behind the wheel of the car that struck and killed a teenage boy celebrating on the night of the Rugby World Cup final was a disqualified driver with three drink-driving convictions.
Sanele Pauli, 17, had just stepped off a bus coming from the Viaduct Harbour with his two brothers and was crossing Great North Rd, Pt Chevalier, when the silver Nissan Primera hit him at 2.20am on Monday.
The police allege the driver blew 512mcg - over the 400mcg limit - and his car was travelling at 80km/h in a 50km/h zone.
The 38-year-old should not have been driving - he is disqualified and has three drink-driving convictions.
A funeral for Sanele, who was just weeks away from finishing his high school education at Avondale College, will be held today.
His uncle, also called Sanele Pauli, said the teenager flew five metres into the air and died instantly.
"They got off the bus and apparently they were crossing the road and a car just hit him. It only just missed the other brother," Mr Pauli said.
"Looking at the car, it was just like he hit a power pole. The car got smashed in the front."
Mr Pauli said his nephew had been reluctant to go out on Sunday night. He had wanted to stay home and watch the cup final on TV.
But when his younger brothers decided to go into the city for the night, he felt he should go too to look after them.
Mina Patel, owner of Pasadena Dairy on Great North Rd, said she saw the car driver sitting with his head in his hands, and spoke to him.
"He said, 'Oh my God, please help, please help. I wasn't driving fast, but they were in the middle of the road'."
A shrine decorated with flowers, messages and photos has been set up near where Sanele died.
Mr Pauli said Sanele's parents, brothers and three younger sisters were not taking his death well.
A Facebook memorial page has more than 1000 members and hundreds of condolence messages.
Jasmine Tuitasi wrote: "Sucks not seeing you around any more brother! Wish you were here to see all the love and how much of an impact you had in people's lives."
Jason Kau said: "Bro I can't believe this has happened, almost feels like a dream. Straight up bro, I reminisce about your jokes and funny moments in class and laugh so [much] it overpowers me from dropping tears."
Cousin Teri Faitotoa Asa wrote: "Hope you liked uncle's speech ... about you. Uncle was right. You are like an angel. God called you home cos he needs an angel like you ... Rest in peace now cuz, your work on this earth is done. We love and miss you so much."
Schoolmate Tarita Avaemai said: "Hey Nele, hope you liked our flowers and pictures and card we put at the flagpole at school today. I know you were watching over us ... We love you brother."
Malcolm Asa said: "I was looking forward to seeing you again and when you turn 18 so we could have our first drink together. But God took you away from us. You're in safe hands now."
Younger brother Sefo Pauli thanked everyone for their messages of support and encouragement. He paid tribute to Sanele, whom he was with on the night he died.
"Why'd you go? You haven't even finished school, bro. Sanele, you were the best brother that anyone can ask for. Sanele was a caring, loving kind of guy. You didn't deserve what happened. You were only 17. R.I.P Sanele Pauli my big brother."
Constable Mark Rodgers said he wanted to hear from witnesses to the crash and the immediate lead-up to it.
"We'd also like to speak to anyone who was on the bus - including the driver - who may have seen the tragedy unfold."
- Additional reporting: APNZ
Can you help?
Anyone with information can contact Constable Mark Rodgers on (09) 359-3116 or at mark.rodgers@police.govt.nz