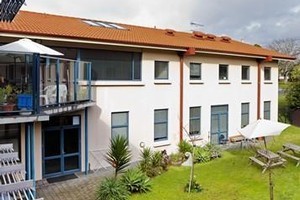 A woman has been charged with helping her partner to die, apparently after surviving a suicide pact.
Glenn Bernard Paterson, 45, died on September 10. Karen Emily Robson, 47, has been charged with helping him commit suicide.
It was alleged the pair suffered long-term addictions to alcohol and drugs and were in hospital together. Robson was revived but Paterson died.
After Robson was charged she was bailed to Pitman House in Pt Chevalier, a Community Alcohol and Drug facility.
A woman, who asked not to be named, said she befriended Robson in the detox unit of the facility.
"She told me they were together for five years. She said she was dead for a minute but she got resuscitated but he never came back. She really wanted to be with him. She loved that man. She was really upset when she found out he was dead and she was still alive. She went through a bit of shock and was a bit traumatised," she said.
When Robson appeared in the Auckland District Court before Judge Anne Kiernan on Friday she was denied further bail.
"It seems from the information before the court that Mr Robson and her partner made an agreement to commit suicide together. She was unsuccessful but her partner died on that day. She has been charged with a serious crime which is punishable by 14 years in prison," the judge said.
Robson first appeared in court on September 30 and was granted bail and remanded to October 21 for a plea inquiry hearing.
On October 3, she was taken into custody because her bed at Pitman House was no longer available and she had breached her bail conditions.
The court heard Robson had told her lawyer her mother was coming from the South Island and could find another place for her to stay through a pastor at her church.
However, her family had not arrived.
"Ms Robson does have severe dependency issues and her condition in recent times has been fragile ... I cannot bail you without a place to go. It is a serious charge," Judge Kiernan said.
Robson told the court her family were on their way to Auckland and she could not remember her pastor's address.
"My brain does not remember. It is a wee bit difficult when I haven't been allowed to make a phone call since Monday," she said.
Her lawyer, David Niven, told the court Robson was in a fragile condition and was having tests to find out if she was mentally fit to plead.
Someone who knew the Paterson family said Glenn developed issues with alcohol and drugs after a bad motorbike accident about 20 years ago. He also had a relapse after his son Hayden died of a heart problem before he was 2 years old.
"He was a nice guy when he was clean. But he couldn't stay clean for long. Every time we visited him furniture would be missing. I think he was selling it off to buy drugs," he said.
A neighbour said Paterson was an "out there character".
"He had a lot of issues. A lot of addictions," he said.
Community Alcohol and Drug Services regional manager Robert Steenhuisen said the average stay in the 11-bed Pitman House unit was six days. It offered help for those abusing alcohol and drugs.