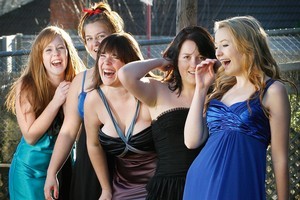 When the Herald proclaims that it is time to stop having school balls, it is time to sit up and take notice.
But there are solutions to the problems with balls.
For 15 years I was principal of two schools - Sacred Heart College in Glen Innes, a boys' school, and co-educational Aquinas College in Tauranga.
I attended 14 balls. I recall vividly the anticipation felt by students and apprehension by staff that all would go well - and utter relief when the ball was successful.
We had our disappointments. Over the 15 years, probably five students were required to leave the ball through intoxication.
In one year, seven boys were dealt with severely when they were found with marijuana.
POSITIVES
* The experience: When we look back on our school days, what is remembered? A gifted or eccentric teacher, a trip, close friends, performing in an outstanding school production, playing in a sports final - and the school ball. My experience of balls - and that of many schools - is that they were overwhelmingly positive for those taking part. The purpose: For young people, the ball provides their first opportunity to dress formally and to mix socially. The ball signifies that they have arrived as adults - as their attire demonstrates.
A favourite photo of mine is of my daughter and me before she attended her first ball. School balls were originally set up for young men and women to meet in a formal, enjoyable and safe environment. This was even more valuable for students from single-sex schools.
* The formality: I enjoyed being on the receiving line where we met each person arriving at the ball. Each student had to formally introduce their partner. Similarly, the formal waltz and even the supper were valuable learning experiences. I enjoyed talking with the students and their partners, and seeing them in a different environment.
NEGATIVES
* The cost: This is now out of control for many. There is enormous pressure to have the best gown, shoes, hairstyle, makeup and, for boys, the bought or hired suits. Add the cost of limousines, corsages, after-ball tickets and pre-ball functions.
Parents are shocked by these costs but often give in to pressure exerted by their sons and daughters. It is common for girls to spend more than $1000 and boys $400-plus.
* Peer pressure: Despite all the worthy alcohol- and drug-education lessons by schools and parents, a number of students see the school ball as an opportunity to push the boundaries beyond what is safe or acceptable.
What individuals agree to and carry out in peer groups is always regretted when they are found out, or when there are tragic consequences. Those not found out add to the mythology of what constitutes "good fun", and so the cycle continues.
* Staff responsibilities: At any ball, staff are assigned to check on student behaviour - it is unpleasant to be constantly checking the toilets for smokers, or those showing signs of inebriation.
* The music: Years ago there was a balance of what was offered in music; now the band or DJ panders to the wishes of the young and the music is no different from what could be experienced at any weekend party; girls take off their high-heeled shoes, boys untuck their shirts to look casual (read scruffy) and as the volume rises the dancing becomes more frenetic.
* The sideshows: Many pre-ball functions hosted by parents are fraught with problems - parents need as much education as their children. Ballgoers think it a challenge to consume as much alcohol as possible as quickly as possible, and hope to get past the security guards. Any after-ball function is now taken over by parents and, though it is not the school's issue, is a source of great concern to principals.
POSSIBLE SOLUTIONS
* Cancel the ball: At least until there is a culture change that means the ball is delivering the objectives set of it - a formal social occasion with reasonable costs.
At one stage at Sacred Heart I did cancel the ball. Eventually a committee of staff, students and parents came up with a proposal that involved dancing lessons, extending the ball and parents agreeing that they would host smaller numbers in their homes after the ball.
The resulting change of culture was abrupt, pleasant and sustained.
* Control the pre-ball: We used to stipulate that pre-ball functions should have no more than 30 ballgoers, and we brought in the host parents (and their sons) and discussed simple strategies to ensure that every student in their care would be permitted to attend the ball.
Those wanting to have a non-alcoholic pre-ball function were affirmed strongly (often for Year 12 peer groups). Serving of food was emphasised as well as restricting drinks to, say, two beers or glasses of wine. One of the hosts should control the alcohol that is provided, no student should bring alcohol to the pre-ball and hosts were expected to be vigilant.
* Limit the costs: Why not put a limit on what should be spent? Apportion part of the costs to a charity. Provide bus transport so limousines are not required.
* Control the music: The formality of the occasion is paramount and the choice of music can enhance or destroy the occasion. The ball committee has influence and should not stoop to the lowest common denominator.
I have said nothing about sniffer dogs, detox rooms or extensive security. If this is the concern, then it is indeed time to cancel the ball until a culture change occurs.
* Brendan Schollum was principal of Sacred Heart College in Glen Innes, Auckland, and Aquinas College in Tauranga.