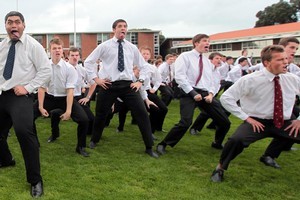 Three days after burying their mate, King's College First XV played
the game of their lives to beat arch-rivals Auckland Grammar.
King's scored a last-minute, length-of-the-field try before about 7000 spectators to win 25-21, sparking raucous celebrations among students - and their rich and powerful parents - reeling from the death of David Gaynor.
Parents said the team dedicated their performance to David's memory.
"The drama of today knows no bounds," said Garth Poole, whose daughter Georgie is a Year 13 student at King's.
"Look at the joy in her face. The sadness for these kids and the intensity of this past week has been unbelievable, but hopefully today will be a step in the healing process."
David, 17, was one of four intoxicated students placed in a "withdrawal room" before being ejected from the King's ball at Eden Park last weekend.
His father, business commentator Brian Gaynor, took him home, and he was found near Auckland's southern motorway with critical injuries.
He died in hospital.
At yesterday's match, the pomp and tradition of 115 years of fixtures was in full view.
King's students formed a guard of honour to welcome the First XV wearing black armbands and their purple, blue and yellow caps on to
Grammar's home ground.
Several hundred King's students removed their blazers to perform a haka, beating the earth and reaching up to the sky, which Grammar boys
responded to in kind.
First five eighth Simon Hickey told mourners of David's brilliance on the sports field at his funeral on Wednesday.
Yesterday Hickey displayed his own prowess as he kicked penalties from all over the ground and steered the team to victory.
When winger Ngataua Hukatai sealed victory with seconds to go, diving over in the corner, King's coaches ran onto the field to embrace the players.
"This is better than winning the World Cup," said one parent.
Among those in attendance were Prime Minister John Key and former Fonterra chief executive Craig Norgate - who hosted David at a pre-ball function.
Norgate said: "The guys were out there playing this for David. These kids are all hurting, but they will feel a lot better having won the game."
Key added: "I wanted to come today to show support for the school. It was a tremendous result."
One teenager wearing an Auckland Grammar hoodie who appeared to be intoxicated was asked to leave by security guards.
But Grammar headmaster John Morris said that should not detract from a fantastic occasion.
"The atmosphere was incredible, I think it was better than you might see at a provincial game or even a Super rugby match. It was a credit to both schools, who share very similar philosophies."
Many of David's close friends were Grammar students, and Morris mentioned that his death was in their hearts and prayers in the match programme.
Poole, whose son was head boy at King's two years ago, said the past week had been "earth-shattering" for the school.
"Parents have been arriving and checking up on their kids. After the death, some kids didn't want to go back to school."
Poole, head of breast cancer surgery at Middlemore Hospital, said children faced huge competitive pressures.
"Being a child in this country is so hard. As a surgeon I see all
of society's problems come through the door. Death is omnipresent for some of these children.
"King's is a rich school, but it's not immune. People can hate these schools, but they can't hate what they have achieved."
Last year, students at the decile-10 private school were stunned by the deaths of William Thode, 15, James Web ster, 16, and Michael Treffers,
15, within three months.
Police investigating David's death on behalf of the coroner will return to the $20,000-a-year South Auckland school tomorrow. Several staff have
already been interviewed.
Last night Saint Kentigern College's ball at Auckland's ASB Showgrounds was monitored by experts from a drug detection agency, two sniffer dogs and breathalysers.
Two investigators and two uniformed security officers were working alongside usual security personnel.
Student Alex Marich, celebrating his 18th birthday, left the ball early and said organisers were clamping down after King's ball last week.
He said: "I was patted down when I went in, sniffed over by a German Shepherd. Everyone looks forward to the ball and after ball and if people can't handle themselves they shouldn't be there."
Several busloads of students were taken from the ball to an organised after-party at a Takanini warehouse.
There was minimal adult presence, and security staff said the event was alcohol-free.

Auckland's Diocesan School for Girls has made similar plans for its ball on Saturday. Meanwhile, the headmasters of several Auckland schools are to meet next week to set out rules around school balls.
King's headmaster Bradley Fenner said he was going to distribute an handbook with advice for students about drugs and alcohol.
"Some of these things have not been clear. We have a zero-tolerance policy on drugs but we know that's not enough as a deterrent. There has got to be more than that."
He said suggestions David was expelled on the night of the ball were incorrect. "He was one of around four students who were deemed to be not in an appropriate state and we simply rang their parents."
Meanwhile, Newstalk ZB radio host Susan Wood has denied a conflict of interest as she covered the aftermath of David's death, where her son is
educated.
Wood said that she had told Dallas Gurney, general manager of talk programming for the Radio Network, about talks with the school.

- Additional reporting: Andre Hueber