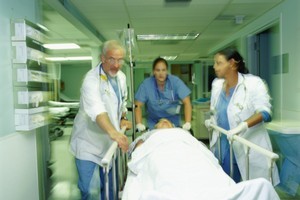 An emergency department is where policymaking on alcohol reform should begin, says Heidi Baker a paediatrician, emergency medicine specialist and mother of a 6-year-old boy.
I work as an emergency physician in both adult and children's emergency departments. It's been a long and circuitous route to this job.
I began medicine as an aspiring orthopaedic surgeon, worked as a general paediatrician, have travelled, studied tropical medicine, been a children's emergency doctor and now I am a dual trainee. My most challenging role, however, is being a mother.
But I live in fear for my son's future and my job only serves to reinforce these fears.
What happened to childhood? What happened to young teenagers gathering to watch a movie, eat food and dream of getting wheels and freedom from the tendrils they feel their parents are placing around them?
I wonder what happens to innocence each time I cross from paediatric to adult departments. Something takes a hold of our children in those precious teenage years. It brings fearlessness, risk-taking and independence - sadness often follows, not far behind.
The shrill laughter of delight at silly faces, bubbles blown or hide-and-seek behind the cubicle curtains is replaced with foul language, the stench of stale alcohol and the proclamation that 10 RTDs are "not much, doctor - I usually drink way more than that".
Or have things changed?
I'm not sure, but as a parent and practitioner working with children and adults I fear for the future of our young people.
I return home after a Saturday night shift to my bed, and restlessly fight the curtain of sleep that's trying to cover me. I worry about my boy, and whether he will one day be brought in on a stretcher, without ID, unconscious and with an ethanol level that would make Scotch whisky look like lollywater.
I wonder what my husband and I should do to ensure our son enjoys his childhood, blossoms in his adolescence and becomes a young adult who respects alcohol - and life.
As individuals, what role do we play in our fate? And do we, as a society, have to stand up and be accountable for the temptations we put in front of vulnerable minds?
Far too often I hear parents justify their own behaviour, saying their child is too young to understand. Children understand far more than we give them credit for. Perhaps in a quiet and subliminal manner, but just because a child can't yet speak, or list the ingredients in a cocktail, doesn't mean they are not aware of the alliance between alcohol, celebrations and intoxication. If we, as parents, drink to excess in front of our children, how can we expect them to behave any differently? Too often at work in the adult emergency department my words to a patient might well have been shouted into outer space. One father congratulated his son on being three times over the legal driving alcohol limit.
As a society, where do we begin? It seems this question is so overwhelming that we turn a blind eye. Across Australasian medical colleges and emergency departments concerns are being raised and submissions written. Our Government is reviewing the alcohol laws and considering reform.
I wait for the outcome as a paediatrician, emergency physician and parent hoping I will not be let down.
Some points that politicians should consider:
* Our local supermarket has been upgraded. Every customer entering must now traverse the alcohol aisle. I approached the manager and outlined my concerns. He said his store and his staff had all undertaken the current government training in "responsible alcohol supply" - the changes were made for the benefit of the "discerning customer".
Why should alcohol be the second consumable I can buy in my supermarket after fruit and vegetables, yet I have to seek out milk and bread? And why is there a large sign advertising Kronic at eye level at the door of the local dairy?
* The waterfront development and continued emphasis on Party Central has only served to reinforce the association between sport and alcohol. Needless to say, emergency-department staff have not been granted leave over the World Cup period. This isn't because we expect to treat sporting injuries, or elderly one-eyed All Black supporters who in their excitement have driven their blood pressure off the dial.
* I grew up in rural Australia. We expected that if you drove on any Saturday night, Sunday morning or public holiday you would be breath-tested at least once. My record was three times one Sunday morning (on my way home from a night shift).
In my six years in New Zealand I have been breath-tested just four times. The decision to drive while over the limit is not one made with any clarity - but if people think they can get away with it they will try.
And then there is the apparent need to do "further research" into the lowering of the legal limit because somehow New Zealanders might be better drivers, or our roads more forgiving than all the evidence available to Australia, Europe and the Scandinavian countries - but don't get me started on that.
So, what should we do? I have two suggestions. It would be lovely if all young adults could have the opportunity to spend a night sober in our department and witness the impact of alcohol on families and loved ones who are too often left with only memories.
Our Prime Minister and policymakers should also spend a Saturday night, rather than a quiet mid-week afternoon, in our department. Perhaps then some firm decisions might be forthcoming.
SATURDAY, 2300HRS: ADULT EMERGENCY DEPARTMENT
All cubicles occupied and the waiting room begins to fill. A young man sits slumped with a T-shirt held to his forehead, dried blood filling his ear where the wound on his scalp has oozed.
From the rear of the department, ambulance alarms approach, while out the front police lights turn the yellow illumination of the emergency sign a shade of blue.
As the night progresses, the cases keep rolling in. "Bottling", "head injury", "found unconscious in doorway", "MVA [motor vehicle accident]", "multi-trauma/status 1".
By morning, the waiting room is full of wasted youths sleeping off the excesses of the night before. Others wait restlessly for rides home.