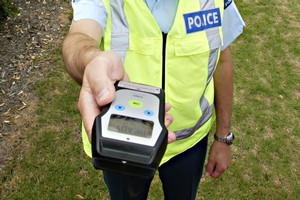 Parents and sports coaches are outraged by a "blind drunk" driver who cruised past two busy sporting venues yesterday morning while 3 1/2 times over the legal limit.
Tauranga police Senior Sergeant Glenn Saunders said concerned residents reported the 40-year-old man, who was driving suspiciously at 9.30am.
The town planner, of Tauranga, had a breath-alcohol reading of 1440mcg - at least 15 bottles of beer and more than three times the legal limit of 400mcg. He is due to appear in court next week.
"It is appalling that this motorist drove a vehicle in such a grossly intoxicated state," Saunders said.
"It astounds me how the man managed to co-ordinate himself while being so drunk ... that was blind drunk.
"It was raining and he drove down a main road, passed Harbourside Netball Courts and nearby Blake Park where literally hundreds of children and their supporters gather for weekend sport, this was an absolute recipe for disaster."
Mount Sport netball chairwoman Sarah Felton said her son, 8, was playing rugby with the Mount Sport junior rugby team yesterday morning. She was "outraged" to learn about the drunk driver.
"I'd be devastated if anything happened to any child along that road, or any person for that matter," Felton said.
Bay of Plenty Steamers assistant coach Paul Fenney was shocked at the behaviour.
"It's not acceptable, simple as that.
"At the end of day there are not many words to describe it, it just shouldn't happen."
Alcohol Healthwatch director Rebecca Williams last night criticised New Zealand's legal limit which allowed an average man to drink seven to eight standard drinks.
"Our limit is high and that's what concerns us, you are drunk at our legal limit already, so basically our legal limit lets us drive drunk," Williams said.
"It's horrifying, it's a wonder they are still standing, let alone able to get in the car, get the key in the ignition."
Meanwhile, Waikato police charged two drivers on Friday for having breath-alcohol readings of more than 1000mcg.
Waikato Road Policing manager Inspector Leo Tooman said one driver, who already had two drink-driving charges, blew 1002mcg.