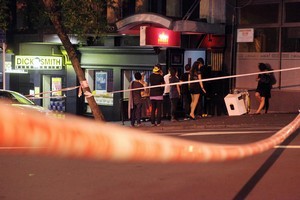 An inner-city nightclub is looking to change its age restrictions for men after a serious assault on the footpath outside left a teenager unconscious.
Damon Matthews, 18, was attacked in Wyndham St when he tried to break up a fight that started when a group was refused entry to the Pyramid Night Club. Four men have been charged in relation to the fight on May 5 and appeared in the Auckland District Court yesterday.
Three of them have been granted interim name suppression.
But the Herald can name the fourth man as Jesse James Julio, 18, after suppression was lifted. He faces a charge of wounding with intent to cause grievous bodily harm.
The other three - aged between 19 and 23 - face the same charge.
Two of them have also been charged with assault with intent to injure.
The suppression orders will lapse on Friday unless further evidence can be given to the court.
Judge Chris Field remanded the men on bail. He told them they were not to associate with their co-accused or go to the central business district between 8pm and 6am.
Detective Sergeant Andy King, the officer in charge of the case, said he could not comment on the defendants before the courts.
However, he confirmed the investigation was ongoing.
"Police believe there could be more people involved in this serious assault. I can't rule out the possibility of further arrests."
Meanwhile, a man identifying himself as Ali Karambayev has posted a message on the Pyramid Night Club Facebook webpage saying the club is looking to increase the age of men allowed entry.
Mr Karambayev is listed as the club's owner on the Companies website.
"That tragic example clearly shows that clubs have to make radical changes in regards to intoxication, dress codes, perhaps, face control and raising legal age up to 20 y.o., door charge etc," he wrote.
In response to a question on the Facebook site, Mr Karambayev said exceptions could be made for regulars. He said 18-year-old women would still be allowed in.
Mr Karambayev also apologised to the Matthews family for the incident.