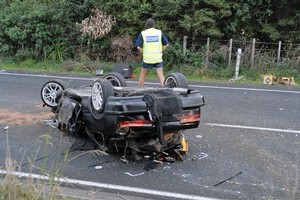 Booze, speed and driving without a licence - this combination appeared to be behind last night's death of a young man racing to the beach to watch the sunset.
The 23-year-old driver was believed to have lost control on a corner as he raced another car towards Muriwai Beach, north west of Auckland, on a stretch of road locals say is treated like a "racetrack".
Another man and two women - believed to be aged between 18 and 23 - were injured in the crash.
The man's black Honda Integra became airborne and stopped only when it slammed into a tree. It came to rest upside down in the middle of the road, surrounded by smashed beer and wine bottles. Another box of alcohol could be seen on the passenger seat.
Farmer and St John Ambulance volunteer Glen Houghton said it had been a high-speed crash. Asked if alcohol was a factor he said: "Well, there was plenty of it all over the road."
Members of the Muriwai Volunteer Lifeguard Service were at the scene administering first aid when Houghton arrived.
Houghton said the injured people, believed to be from West Auckland, had lacerations and possible leg, neck and spinal injuries.
Houghton said he had seen many crashes on the same piece of road. "Young people treat Muriwai Rd as a racetrack."
A driver among the first on the scene said it was "chaos". The woman, who declined to be named, said: "Someone else who had seen it told me the young people were racing another car. The other car was okay.
"It was pretty much a mess. It was very hard to watch. Really hard. I was heading out for a quiet drive and came across chaos. It was pretty awful. I couldn't do anything for them.
"One was trapped, the guy that died, he was driving. One of the girls had been ejected from the car and the two others were pulled from the car."
Another farmer, Ian Houghton, lives closest to the crash scene. He said people speed round the bend "just about every day, it doesn't surprise me that something happened".
A collection of belongings lay on the side of the road, but most of the debris was cardboard alcopop and beer boxes and broken bottles.
About 20 metres down the road a large tree was crushed. It is understood the car hit the tree roof-first and slid to a rest down the road.
The Auckland Hospital duty manager said: "You go for a nice Saturday afternoon drive to watch the sunset and it all turns to porridge."
The 111 call was made at 3pm. Fifteen volunteer firefighters from Kumeu and Muriwai attended.
The Herald on Sunday learned the man who died was a disqualified driver who should not have been behind the wheel. Police said last night speed was being investigated as a factor in the crash.
Rodney Local Board member Brenda Steele said Muriwai Rd was notorious for speedsters. " There are signs warning them to slow down but with youth they will take it to the max. Driving and alcohol is a lethal mix. It's Russian roulette," she said.
But board member Thomas Grace disputed the "racetrack" description: "It sounds like two hoons that were having a bad moment and putting it on".