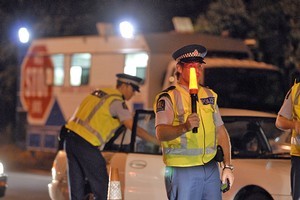 Hundreds of people will appear in court tomorrow following a weekend-long police operation targeting alcohol-related offending.
In just 24 hours spread over two nights, police arrested 467 motorists for drunk-driving, and another 43 for liquor-ban breaches.
105 teenagers were also arrested for underage drinking and charges laid against 24 licensed premises that sold liquor to underage actors.
Acting Detective Superintendent Ross Grantham says the sting - dubbed Operation Unite - was mirrored by police across the Tasman.
He said the aim of Operation Unite was to break the "drink to get drunk" culture that exists in both countries.
"All we're asking is that people, no matter what their age, make safe and sensible choices when and where they decide to have a drink," he said.
Operation Unite - the fourth time New Zealand and Australian police jurisdictions have worked on simultaneous alcohol campaigns - ran between 6pm on Friday and 6am yesterday and 6pm Saturday to 6am today.
Last night 1036 officers across New Zealand worked on the operation accompanied by 113 people from partner agencies including District Licensing Agencies, Public Health, ALAC, Maori Wardens and Community Patrols.
In addition to normal Saturday night policing patrols, additional focus was put on checking hotel and licensed premises, road policing checkpoint operations and controlled purchase operations where young volunteers are sent, under supervision, to see if they could buy alcohol at places like bottle stores, supermarkets at other licensed premises.
One young volunteer in an Auckland controlled purchase operation was about to step into an Onehunga liquor store when he realised the theft of some alcohol was taking place.
He alerted nearby police officers who were supervising the operation and after a short foot chase and a scuffle, including the use of OC spray, police officers arrested two young men. The 19 and 17-year-old men have been charged with theft and aggravated assault.
The bottle store worker was treated for cuts and grazes to his head and face, and the 16-year-old volunteer was uninjured.
Mr Grantham said Counties Manukau staff were pleased the operation had contributed to a very high compliance rate with business check age ID before selling alcohol. Elsewhere in the district however, staff were kept busy with disorder related offending.
Auckland reported that at one checkpoint six drivers were over the limit, two blew over 1000mgms (the limit is 400), and all had previous convictions for drink driving.
In the Bay of Plenty, staff had reported out of control parties which needed to be closed down in Rotorua and Tokoroa.
Gore staff had bottles thrown at them while shutting a party down in Kitchener Street, requiring back up from Invercargill. Two people were arrested for obstruction.
- Newstalk ZB, NZPA