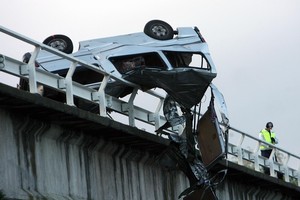 The father of a girl catapulted from a van into a river after its 16-year-old driver crashed on a bridge supports the changes in road safety rules.
Two people were killed when the van carrying seven young people collided with a car on State Highway 50 in Hawkes Bay 18 months ago.
Max Harman, Robert Waikari and Jordyn Beach, all 17 at the time of the crash, were flung from the van into the shallow river below.
Jordyn narrowly avoided death, but the two youths died at the scene.
The driver, Tamoko Christy, had been drinking and was convicted this year in the Youth Court on two charges of manslaughter. She was setenced to 10 months' home detention, 100 hours of community service and lost her licence for seven years.
She was on a learner licence at the time of the crash, and so shouldn't have had passengers, shouldn't have been drinking and shouldn't have been driving after 10pm.
Jordyn's father, Gerald Beach, told the Herald last night the proposed changes were a step in the right direction.
"I think the age restrictions are a jolly good thing ... young drivers need to be taught properly how to use a car," he said.
"Fifteen-year-olds just don't have the experience to be out on the roads. It's unrealistic to think that they do."
Transport Minister Steven Joyce said last night he was keen on investigating limits on how long drivers could remain on learner or restricted licences, as he was concerned at high numbers of over-stayers on what was meant to be a progressive system.
He said 40 per cent of 241,167 learner licence holders and 36 per cent of 313,543 people on restricted licences had been at their current levels for more than five years.
"What that says is they are not following the intent of the graduated licence process, to get progressively more experience and trusted by the system to drive their own vehicles," Mr Joyce said.
"I'm also concerned that it creates a potential climate of not observing the restrictions for learner and restricted licences because too many are sitting on them and flouting the rules."
Mr Beach said the proposed changes should help reduce the number of crashes like the one Jordyn was involved in.
However, he said, restrictions should also be placed on the power of the cars that learner drivers were permitted to use, and more focus should be put on education.