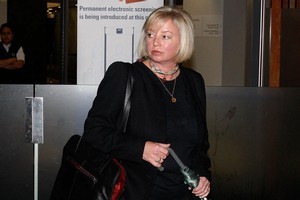 A lawyer convicted of a drink-driving charge can be named for the first time.
Commercial barrister Sandra Anne Grant, 47, was convicted in the Auckland District Court yesterday on a drink-driving charge.
Grant, who has offices in Shortland Chambers in inner-city Auckland, had been trying to keep her record clean by applying for a discharge without conviction.
She had also been granted interim name suppression but that lapsed yesterday.
Her lawyer, John Haigh, QC, said no further applications for name suppression would be made and he withdrew the application for a discharge without conviction.
Her case was heard by Chief District Court Judge Russell Johnson, who gave her credit for an early guilty plea and her previously clean record. He fined her $500 and disqualified her from driving for six months.
Grant must also pay court costs of $132.89, an analyst's fee of $93 and medical costs of $80. Her total payment will be $805.89
Grant stood in the dock with her head bowed and hands clasped in front of her as Mr Haigh made submissions on her behalf.
Grant was pulled over by police during a routine breath alcohol stop in Auckland. A blood test showed she had 128mg of alcohol per 100ml of blood in her system - more than one and a half times the legal limit of 80mg.
Judge Johnson said that amount roughly equated to 640 micrograms per litre of breath. The legal limit is 400.
Mr Haigh said his client "had the honest but wrongful belief that at the time, she had not exceeded the blood alcohol limit".
"The defendant is an exemplary citizen and is highly regarded in her profession."
He said Grant had pleaded guilty at an early stage and the multiple court appearances had been no fault of her own.
"She is devastated by appearing in court and the publicity, which Your Honour can appreciate, has been intense."
Mr Haigh also asked Judge Johnson to prohibit the media from reporting details contained in Grant's court file.
He said some of the details were embarrassing and some people referred to on the file were not aware that their names had been included in court documents.
"There is no subterfuge, sir," Mr Haigh said.
Judge Johnson said the information on the file was no longer relevant or in the public interest, as Grant had dropped her application for a discharge without conviction.
"A perusal [of the files] demonstrates that they contain personal content about the defendant and her aspirations which are irrelevant in terms of the proceeding."
Judge Johnson described Grant's charge as "ordinary".
"The defendant was appearing on her first prosecution on a charge that is summary in nature and of a kind that is heard in court every day without public attention.
"She has been sentenced in an ordinary way, as any other citizen would be sentenced."
At Grant's last appearance, at Waitakere District Court, Judge Lisa Tremewan said the case had been before the courts 10 times.
Grant was previously represented by lawyers Harry Waalkens, QC, and Steve Cullen. She was granted name suppression at a private meeting with Judge Eddie Paul last month.
THE CASE
* 11 court appearances.
* Application for a discharge without conviction.
* Granted interim name suppression.
* Private meeting with Judge Eddie Paul.
* Sentenced by the chief district court judge.
* Represented by two Queen's Counsel at different times.
* Court file to be permanently suppressed.