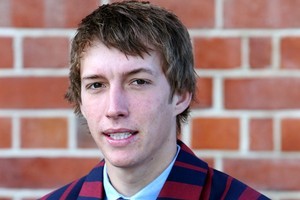 The head prefect who kept his role despite pleading guilty to a drink-driving incident has made a tearful apology to his schoolmates.
Luke Bradley, 17, addressed a full assembly at Hasting Boys' High School on Friday at which he said he deeply regretted his actions.
The school had faced criticism for keeping Bradley on as head boy after he pleaded guilty to drink-driving and careless driving after an incident on January 23.
The teenager lost control of his car before it rolled and landed upside down in a stream. He returned a breath alcohol level of 186mcg. The legal limit for drivers aged under 20 is 150mcg.
During his apology Bradley reminded students of a speech about decisions he made at last year's junior prizegiving.
"In January I made a decision that I am definitely not proud of," he said. "My actions have resulted in consequences that will be with me for the rest of my life.
"I deeply regret what I did and have definitely learned a lesson. I urge all teenagers not to make the same mistake."
Bradley said he knew he would have to work hard to make up for his mistake and to regain people's trust.
"I am responsible for the tarnishing of the reputations of our board of trustees, headmaster, staff and our school in general - for this I am truly sorry."
Headmaster Rob Sturch said the apology was "genuine" and "moving", and it was time to move on.
"I think the boys appreciated how significant it was in his life. I think it was well received."
Sturch said it had been a "horrific time" for Bradley but by the end of the year he would show what he was made of.
"I think this will spur him on to be a better person. The apology was genuine, it was his idea."
The principal also spoke to the assembly and told the students that if a boy was going to die before 25, then it was likely to be in a car crash with alcohol involved.
"I talked about group responsibility, not just individual. Hopefully everyone learns from what has been a stressful time."
Sturch described the criticism of Bradley and of Hastings Boys' High School as a "ruthless campaign".
"He has paid the price, and paid dearly. At what point do you say he needs to pay more? People won't realise what he has paid for this."
For more articles from this region, go to Hawkes Bay Today