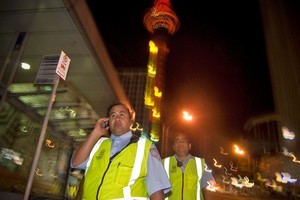 Auckland's drunken violence hit the headlines again this week with the news that actress Keisha Castle-Hughes, who said she had not been drinking, was handcuffed by police to hold her back from a fight between her boyfriend and another man. Incidents like this prompted Auckland Council and the Heart of the City to set up the City Watch patrol.
Sex, booze and abuse - it's all in a night's work for a City Watch guard.
We met up with them on Friday night to discover what goes on in the city after dark.
The nightshift of three guards, Meremere Papa Teaurere, Narinder vir Singh and Sandeep Singh, are briefed by supervisor Darran Wikwepa at 9pm then head out to patrol their patch of the central city bordered by Queen, Wellesley, Albert, and Quay Sts. The trio walk the area continuously until 4am.
Most of the work involves reminding people of the liquor ban in the area, asking beggars to move on and ensuring buskers are not staying too long.
They keep an eye out for anti-social behaviour - usually due to intoxication - with the police only a phone call away.
The guards do not have any enforcement powers and people can flare up when they are being told what to do. "You get a thick skin when you are a security guard," says Wikwepa. "You don't take anything personally."
The City Watch team typically record about 23 events on a Friday night. "We have seen guys get knocked out, but that's very rare."
It's 10.30pm, and shouting breaks out near the corner of Shortland and O'Connell Sts. The guards hurry over to see whether a fight is brewing.
A group of young guys pops out of a stairway. One picks up a road cone and hollers into it like a megaphone. Another is taking swigs from a can. The guards check that it is not alcohol. Energy drink. He is not in breach of the liquor ban.
By midnight, young women in tight mini dresses have abandoned their high heels and are padding along Queen St barefoot.
The guards pause on Wyndham St to tell a man in his early 20s to discard his can of ready-mix vodka. He gets aggressive, yelling: "You can take my finger prints if you want."
A couple fumble in a failing attempt to surreptitiously have sex - on a concrete bench outside Westfield Downtown.
We walk down Elliott St. "This is the worst place," says Teaurere. "The teenagers hang around and drink and fight."
We have just missed them. There is fresh vomit under a bench.