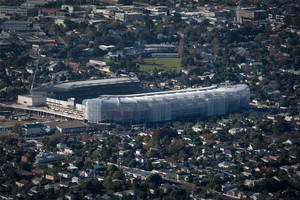 There will no repeat of the drunken behaviour seen at November's league double-header at Eden Park when the code's fans return tomorrow for the Warriors' season opener against the Eels, says Mayor Len Brown.
After convening a mayoral taskforce to deal with problems at the ground, he is confident that everything that realistically can be done has been done to prevent a repeat of the events of November 6.
Rugby league's big night at Eden Park was marred by drunken fans, bottles thrown on the pitch and six arrests for disorderly behaviour.
There was little apparent enforcement of a liquor ban the police theoretically had put in place for the double-header, where drunken hooligans threw hundreds of bottles and other missiles at players and spectators.
The taskforce - which includes the chief executives of the Auckland Council, Auckland Transport and the Eden Park Trust Board and senior police officers, councillors and local board members - has met twice so far, leading to a liquor ban crackdown outside the park and greater police and security staff numbers on match days.
Eden Park chief executive David Kennedy said tomorrow's rugby league match was being treated no differently from other matches and events at Eden Park since November's double-header.
He said the problems in November were never attributed to the rugby league crowd, "but a bored and grumpy crowd, some of whom had too much to drink".
But Eden Park Neighbours' Association president Mark Donnelly said tomorrow night's league match would be the first major test of the greater liquor ban enforcement.
With a party atmosphere being promoted for the game, and a live performance by rock band Shihad before kick-off, there was a risk of fans drinking longer before the match and inside the ground, he said.
A spokesman for Auckland Transport said there would be security staff at key stations, including Kingsland and Morningside, and along the walking route from Morningside.
A shuttle service for the disabled would operate at Morningside station.
Some western passengers bitterly criticised transport arrangements, tested for the first time at last month's Super 15 match between the Blues and Crusaders, in which they were dropped off at Morningside station and told to walk to Eden Park.
Mr Donnelly said road closures and parking permits remained the biggest worry for locals. He had only yesterday received a flyer from Eden Park forcing a permit-only lockdown of the area.
"This is the first time since the debacle of the double-header that we have a full lockdown of residents," he said.
"This means you have to get permits for visitors from Eden Park, and get them to your visitors before Saturday evening, even if they live on the other side of Auckland."