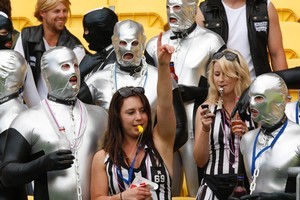 Wellington police arrested 18 people overnight as NZI sevens rugby fans headed into the central city to carry on partying.
The number was in addition to the 16 arrests and 76 evictions, mainly for smuggling alcohol, at the Westpac Stadium yesterday.
"Hotels and pubs on the waterfront and main routes to Courtenay Place were busy with a spike in the number of people in Courtenay Place between 12:30am and 2:30am today," acting Inspector Scott Miller said.
He said police were also called on to deal with a disorder incident, which broke out among people not at the sevens but quickly escalated as large crowds gathered to watch as officers tried to calm the situation. A total of five people were arrested.
"The message here is don't involve yourself in anything that does not directly concern you. The bigger the crowd the more police are required to handle the situation and the more quickly it can escalate."
Mr Miller said although a large percentage of the crowd were in various states of intoxication, the city's liquor ban was being well adhered to which was very positive.
He said larger crowds were expected in the city centre tonight and he urged visitors to observe the following tips:
- Moderate the amount of alcohol you drink. Intoxicated people get into trouble by provoking fights, or they become vulnerable as victims of crime.
- Keep yourself hydrated by drinking plenty of water, eating food as well. Water stations will be available at the stadium for the first time this year.
- Young women should stick together and not get separated from friends. If you are going to drink, stick with your group and make sure someone is looking after you.
- Keep an eye out on your friends and if they're getting the worse for wear, take them home or back to their accommodation.
- Plan your night out and how you're going to get home. If you're walking, stay with your group, or get a taxi, late night bus or train with friends.
- NZPA