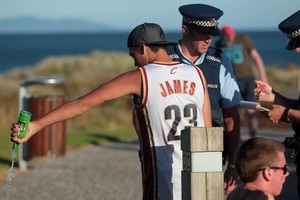 The main exodus from the country's holiday spots back to the cities is under way.
Campgrounds, motels and hotels will further clear today as people head for their homes and their jobs.
The only people probably relieved at the thought of most of the country heading back to the daily grind are those who have had an even more difficult workload than usual over the holiday period - particularly emergency services personnel.
Once more too many have died or been maimed on the roads and the drowning toll, already in double figures, is shocking. A lack of commonsense, like the failure to use lifejackets by some boaties, has cost unnecessary lives.
It is clear there is no magic bullet, however, to stopping these sorts of horrific incidents. No doubt police are even giving themselves a small pat on the back - things could have been worse.
The annual New Year's Eve riots appear a thing of the past. Our boys and girls in blue have clamped down in recent years. Liquor bans are in place nearly everywhere crowds can gather and those breaching them are unceremoniously dumped in holding cells overnight.
It is a strange mark of where things have got to that hundreds of Kiwis spend New Year's Eve in jail and we are relieved they are there - they aren't able to cause mayhem or incite violence.
This year there were 69 arrests in Christchurch, 20 in Wellington, dozens up the Coromandel and it was similar all around the country. It has helped turn around celebrations in places like Mt Maunganui, which are once again attracting big crowds of families who believe the night will actually be fun and safe to attend.
Getting to this point has effectively forced a mindset change. The majority of people can be trusted to enjoy a quiet beer on the beach, but the minority have forced us to accept it simply can't be allowed.
It must be galling for people who have gone to the Ellerslie races each Boxing Day with a group of friends - and who have enjoyed each others' company and a few drinks from their chilly bin - to be told they can no longer do it. Some even scrapped their attendance this year.
But it's a reality we now have to accept - we can't be trusted in public with unfettered amounts of alcohol. That's not going to change.
The mood for societal change is unmistakable and the Government has largely picked up on this with its planned changes to liquor laws.
Some of the key ones have been well publicised - raising the off-licence purchasing age to 20, making young and recidivist drivers have a no-alcohol driving limit, reducing alcohol content in ready-to-drink mixes, putting a standard closing time across most bars and clubs and giving local residents a say in liquor licensing processes.
Of course, John Key and his colleagues could go further by lowering the general drink-drive limit and supporting the Herald on Sunday's Two Drinks Max campaign.
But we don't want to detract from a laudable summer result by banging on with that old chestnut.
It is clear that things can go well at our key summer spots if clear and well-publicised rules are in place. Police officers will continue to have to suspend their holiday plans and maintain their no-tolerance policy through this period. So be it - we have brought it on ourselves.