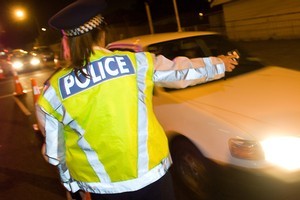 Wellington police say they are concerned at a sharp increase in drivers failing initial breath tests at checkpoints.
District road policing manager Inspector Peter Baird said at a recent Friday night checkpoint in Molesworth St, Thorndon, out of 1000 cars stopped, 126 failed the initial test.
That meant just over 11 per cent of those motorists had consumed alcohol prior to driving, he said.
"Basically, drivers are making the choice to drink and drive, gambling with their level of impairment against the risk they may present to other motorists, cyclists and pedestrians.
"One drink takes you down the path of impairment, affecting your inability to drive safely. Other road users have no choice in who they face coming towards them. So, if you plan on having one drink or more, then sort out your ride home at the start of your night."
Meanwhile, Bay of Plenty police said they were pleased with the public response to Operation Unite this weekend, which saw police on both sides of the Tasman focusing on alcohol offences.
Twenty-three of the 1799 motorists stopped at checkpoints or by mobile patrols on Friday night were over the drink drive limit, with another three awaiting results of blood samples, Senior Sergeant Colin McPherson said.
A further four arrests were made for other offences arising from the vehicle stops.
"One drunk driver is one too many," Mr McPherson said.
"The highest level we recorded was 1129mgs which is disappointing considering the publicity given to the dangers of drinking and driving."
- NZHERALD STAFF