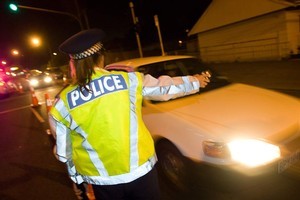 Police say they were encouraged by the results of an operation targeting alcohol over the weekend while the festive season is in full swing, although wet weather may have kept many people off the streets.
Co-ordinated with Australian police, Operation Unite was an attempt to change attitudes towards drinking.
In New Zealand police arrested 135 people for a range of offences, although more arrests may follow.
More than 40,000 people were breath tested at checkpoints and by mobile patrols, with less than 1 per cent of drivers - 263 - testing positive for alcohol.
Fifty-three blood samples were taken that could result in court action. A further 212 offences were also detected at checkpoints.
Police handed out 2721 resource packs challenging people's drinking behaviour and offering free help lines to call about problem drinking.
In controlled purchase operations 262 liquor retailers were targeted and 19 were caught breaching their licences and face further action.
One premises suspended for previously trading outside its trading hours was caught a second time in three months.
A further 623 hotel compliance checks were made, and 48 breaches of the Sale of Liquor Act were found.
Fifteen minors were warned about underage drinking, while 49 people were arrested and 216 people warned for breaching liquor bans.
The highest drink driving result recorded during the evening was in the Waikato in which a recidivist drink driver allegedly blew 1290mg per litre of breath. The legal limit is 400mg.
"We want everyone to remember their night out for the right and safe reasons, not one that they will forget or regret," said Acting Detective Superintendent Ross Grantham.
Just over 1000 New Zealand police officers were involved in the operation.
In a similar trans-Tasman weekend blitz at the same time last year, New Zealand police arrested 369 people for alcohol-related offending and 291 motorists as about 1100 police hit the streets.
- NZPA