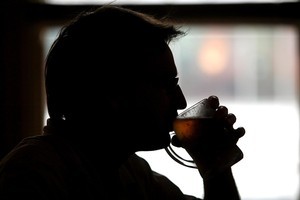 Inside the corner pub in Kiel's down-at-heel Gaarden district, hollow-cheeked men with tattoos sat at the bar, chain-smoking roll-up cigarettes as they cracked open the beers they had bought at the discount supermarket down the road.
"They let you do what you want in this town, there's no pressure to go to anything like Alcoholics Anonymous," insisted one.
Behind the bar a corpulent bartender with shoulder-length hair and a worried look puffed at a fag as he served up tea, coffee, coke and mineral water to the motley crowd.
Oddly for a corner pub, the beer taps behind the bar were permanently sealed, crushing even the remotest hope of a pint.
A German drinking establishment in which you can smoke your head off but will always be refused alcohol, the bar in Kaiserstrasse is the latest of Kiel's so-called "drinking rooms" - a taxpayer-funded pub for alcoholics.
"We are giving space to people who have serious problems who we have been unable to help," is how Torsten Albig, Kiel's mayor, justifies the project.
The Kaiserstrasse pub is the city's second "drinking room". It costs taxpayers €33,000 ($58,000) a year, staffed by reformed alcoholics and members of the Hempel's social welfare organisation, which deals with the "street scene" - the homeless, alcoholics and drug addicts.
Social worker Reinhard Bttner denies the project is proof of the welfare state's failure because it panders and doesn't try to reform. "The drinking rooms are one of the few ways of reaching these people."
Christoph Schneider, from Kiel's housing department, who is credited with inventing the idea, says: "The public are pleased that drinkers are off the streets and the street scene is happy to have somewhere to go."
The project caters for 70 alcoholics and drug addicts on methadone who also drink heavily. If customers want alcohol, they must bring their own, limited to low-alcohol beer or wine.
The most contentious rule is that no one has to seek assistance to quit drinking. "We only provide assistance if people ask for it," said Jo Tein, of the Hempel's welfare group.
- Independent