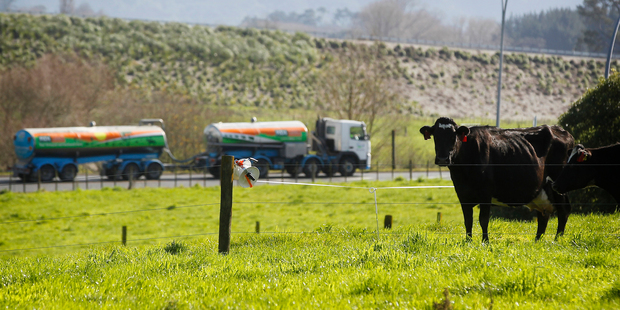 Fonterra's annual earnings look set to fall short of its prospectus forecasts when the company reports its result for the July 31 financial year tomorrow.
The result, which will not capture the costs involved in August botulism scare and subsequent product recall, is expected to reflect the combined effect of last summer's drought and difficult trading conditions in Australia.
Mark Lister, head of private wealth research at Craigs Investment Partners, said attention would most likely centre on the costs to production and the financial follow-on effects from the botulism scare, which turned out to be ill-founded. "It's hard to see a scenario where there is no financial impact in that regard."
The Fonterra Shareholders' Fund unit price, after initially being sold down to $6.50 on the back of the scare, quickly rebounded, closing yesterday at $7.18.
Fonterra said in July that its normalised earnings before interest and tax were likely to be around $1 billion, down 7.3 per cent from the forecast contained in last year's offer documents for the Fonterra Shareholders' Fund.
The co-op's New Zealand Milk Products (NZMP) division delivered a strong performance on the back of price premiums, product mix, cost savings and productivity gains but the second half was challenging.
Fonterra has said the drought contributed to a 64 per cent rise in whole milk powder prices in the GlobalDairyTrade auction since early 2013, and that this had a temporary, but significant, negative impact on NZMP's margins.
At the same time, the co-operative's Australian business remained under pressure, with changes there resulting in a number of additional write-offs.
Brokerage Forsyth Barr said it expected the company to report underlying net profit after tax of $718 million, up 18 per cent on the previous year's profit. "The result will be characterised by significant period-to-period profit volatility.
"A very weak second half of the year follows an extremely strong first half," it said. Forsyth Barr said NZMP was "barely profitable" in the second half.
Fonterra said in August that it had raised its forecast farmgate milk price for the 2014 season by 30c a kg of milk solids to $7.80 per kg - which would be a record if it comes to pass.
High milk prices are good for farmers at the farm gate but they affect Fonterra's margins on the manufacturing side of the business.
The key "hit" to margins from the advance of global dairy prices over the past nine months will be in the first half of the current financial year, Forsyth Barr said. It expects some margin pressure to be evident in the second half of the year just finished.
The sustained downturn in the Australian milk processing business will impact performance yet again. Forsyth Barr expects ANZ to report a 29 per cent decline in earnings before interest and tax. APNZ
- APNZ