Despite chemical company lobbying, nerve agents could be outlawed to help bees.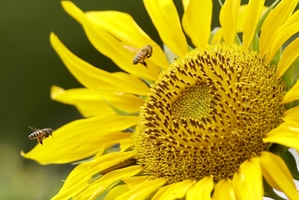 Europe is on the brink of a landmark ban on the world's most widely used insecticides, which have increasingly been linked to serious declines in bee numbers.
Despite intense secret lobbying by British ministers and chemical companies against the ban a vote in Brussels tomorrow is expected to lead to the suspension of the nerve agents.
Bees and other insects are vital for global food production as they pollinate three-quarters of all crops. The plummeting numbers of pollinators in recent years has been blamed on disease, loss of habitat and, increasingly, the use of neonicotinoid pesticides.
The prospect of a ban has prompted a fierce behind-the-scenes campaign. In a letter released to the Observer under the UK's freedom of information rules, Britain's Environment Secretary, Owen Paterson, told the chemicals company Syngenta last week that he was "extremely disappointed" by the European Commission's proposed ban. Publicly, ministers have expressed concern for bees, with British Prime Minister David Cameron saying last week: "If we do not look after our bee populations, very serious consequences will follow."
The chemical companies, which make billions from the products, have also lobbied hard, with Syngenta even threatening to sue individual European Union officials involved in publishing a report that found the pesticides posed an unacceptable risk to bees.
The report, from the European Food Safety Authority, led the commission to propose a two-year ban on three neonicotinoids.
A series of scientific studies has linked neonicotinoids to huge losses in the number of queens produced and big increases in "disappeared" bees - those that fail to return from foraging trips. Pesticide manufacturers and UK ministers have argued that the science is inconclusive and that a ban would harm food production.
A ban has been supported by petitions signed by millions of people and Paterson has received 80,000 emails, an influx that he described as a cyber-attack.
"The impact of neonicotinoids on the massive demise of our bees is clear, yet Paterson seems unable to escape the haze of sloppy science and lobbying by powerful pesticide giants," said Iain Keith of the campaign group Avaaz. Andrew Pendleton of environmental organisation Friends of the Earth said a ban would be "a historic moment in the fight to save our bees".
The chemical industry has mounted an increasingly desperate lobbying effort against a ban on neonicotinoids, which have been in use for more than a decade. In March the top producers, Syngenta and Bayer, proposed a plan to support bee health, including planting more flowering margins around fields.
In the first commission vote in March, 13 countries supported a ban, nine opposed it and five, including the UK and Germany, abstained, which meant there was not a sufficient majority for or against under voting rules, which give larger nations more votes.
The result is likely to be repeated tomorrow, meaning the commission would step in and it is determined to see a ban in place.
- Observer