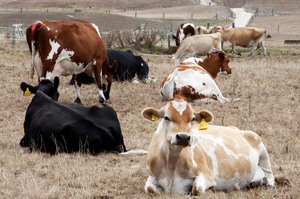 Rain yesterday and a MetService prediction that it will continue with patchy showers in Northland over the next eight days signals the region's long dry spell is ending.
But Northland Regional Council hydrologist Dale Hansen yesterday warned parched paddocks need a lot of rain to restore moisture levels.
Primary Industries Minister Nathan Guy said the drought he declared in Northland at the end of February was unlikely to be lifted before next month.
Even if the drought was officially declared over, the extra funding for Rural Support Trusts and for Rural Assistance Payments would continue until September, he said.
Recent rain across the country had been welcome. It had lifted spirits and started grass regrowth, but it wasn't yet enough to break the drought, Mr Guy said.
"We're now almost in a state of "green drought", where the land looks green but still isn't growing fast enough," he said.
"It's important that we get good follow-up rain before the colder winter weather settles in."
Whangarei had received only 46mm of rain so far this year - about 12 per cent of the 410mm it should have got since January 1, Hansen said.
Similarly, Dargaville had recorded 45mm of rain so far this year - about 15 per cent of the 300mm expected.
The situation was better further north, with Kaitaia receiving 74mm of rain this year (23 per cent of the the 316mm expected), Kerikeri 112mm (25 per cent of 441mm expected) and Kaikohe 166mm (42 per cent of 393 expected).
Northland has had the driest start to a year in about six decades. Mr Hansen said much of the rain had come in a couple of heavy bursts about a fortnight ago, the only significant rain in the region since Christmas.
The Metservice reports wind gusts of almost 130km/h were recorded at Cape Reinga yesterday morning, when heavy rain was forecast for Northland, spreading south over Auckland, Coromandel and the Waikato later in the day.
Showers are forecast for Whangarei today with strong north-east winds. The showers are expected to continue daily though until next Tuesday, with the wind fading after the weekend.
NAD lb