Drought-hammered dairy farms get some help from higher prices for overseas sales.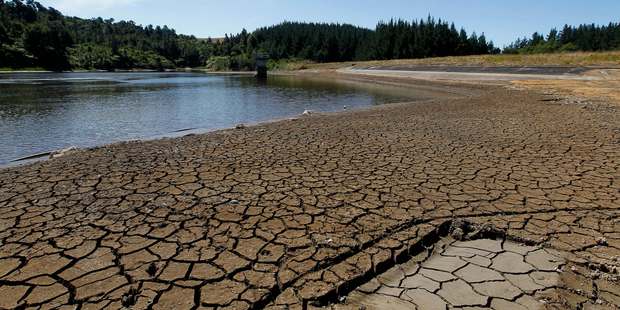 The drought gripping most of the country is hitting dairy farmers hard, but soaring export prices will partially offset lost production, economists say.
Milk product prices at Fonterra's latest GlobalDairyTrade auction leaped by 14.8 per cent as buyers flocked to secure dwindling supplies before the end of the season.
Prices for wholemilk powder - the most significant product for New Zealand producers - hit its highest level ever, rising 21.2 per cent to US$5116 a tonne.
It was the seventh consecutive fortnightly gain and brings prices to 38 per cent above December levels and 77 per cent above the mid-May lows.
The news of higher milk prices was tempered by the fact that low volumes caused by the drought are largely responsible for the gains.
Westpac said milk production could drop for the first time in five years as a result of drought conditions afflicting the entire North Island and part of the South.
The bank's economists predict milk production for the 2012-2013 season may be as much as 2 per cent lower than last year, despite increasing herd sizes and a bumper spring.
Bank of New Zealand agricultural economist Doug Steel said the price gains would not be enough to offset lost production, but they would help.
"I don't think the price gains are enough to offset the volume decline," he said. In the latest auction, volumes were 20 per cent down on forecast while prices were up by nearly 15 per cent which was a net negative, like the previous auction.
"It is a decent offset, but it's not enough to keep income from falling," he said. Westpac agri-economist Nathan Penny said that in January, milk volumes were up 6 per cent on the previous year, which in turn was 10 per cent better than 2010.
"As recently as last month we were still expecting total production to be slightly up on last year, but since then the drought has pushed milk production levels off a cliff," Pennysaid.
Westpac's "best case" scenario is now for this season's production to equal last year's.
"However, it could be as much as 2 per cent lower. It all depends on when the rains come," he said.
Westpac agribusiness head David Jones said the full financial effects of the drought might still be several months away. He urged farmers to keep the "channels of communication" open.
Jones said farmers had reacted very swiftly to the drought, shedding stock and otherwise reshaping their operations. As a result, many were still in a fairly strong cash position.
Finance Minister Bill English said at the weekend that the drought could shave $2 billion off the nation's GDP, but Steel said its impact was going to be difficult to assess.
The increased volume of livestock going through the meat works would bring a one-off increase in economic activity, but there would be other issues later in the year, such as the drought's impact on lambing percentages.
Parts of central New Zealand have seen rain over the past few days. WeatherWatch analyst Richard Green believes drought conditions should gradually ease rather than be broken by the advent of widespread heavy rain.
APNZ