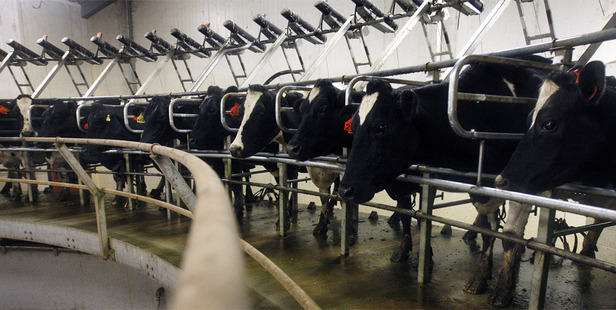 Dairy prices rose to the highest level since early April in the latest GlobalDairyTrade sale, the third straight gain, with increases for all eight products on offer.
The GDT-TWI Price Index rose 6 per cent compared to the last sale two weeks ago. The average winning price gained to US$3,174 a metric tonne, the highest since the early April sale, from US$3,054 a tonne at the last auction.
Whole milk powder, the biggest product by volume, rose 4.3 per cent to US$2,978 a tonne and skim milk powder jumped 7.5 per cent to US$3,211 a tonne.
See more details of the auction here.
The auction results come after the ANZ Commodity Price Index gained in August after seven straight monthly declines, led by skim milk powder, though the strength of the New Zealand dollar meant prices fell 0.8 per cent in kiwi terms.
The Reuters/Jefferies CRB Commodity Index of 19 commonly traded commodities is at its highest level since May amid optimism central banks in the US and Europe will act to stimulate growth.
In the latest GDT auction, anhydrous milk fat climbed 11.8 per cent to US$3,530 a tonne and cheddar rose 5.3 per cent to US$3,593 a tonne. Butter milk powder rose 15.8 per cent to US$3,091 a tonne and lactose gained 5.2 per cent to US$2,059 a tonne.
Milk protein concentrate rose 15.5 per cent to US$6,173 a tonne and rennet casein rose 10.1 per cent to US$7,825 a tonne.
There were 143 winning bidders over 16 rounds. There were 203 participating bidders out of a total number of qualified bidders of 717.
ANZ National Bank rural economist Con Williams said the strength of skim milk and anhydrous milk fat prices at the auction suggested tight market conditions in the United States and Europe, where higher grain costs are making their presence felt.
"It really shows that there are some concerns about the supply situation, particularly in the United States, but also I note that production has come off a bit faster in Europe than people had anticipated," he told APNZ.
Bank of New Zealand said in a commentary the gain in auction prices would lend support to Fonterra's new payout forecast.
"Importantly, the trend in prices appears to have turned higher, supported by drought conditions in the United States," the bank said.
- with APNZ