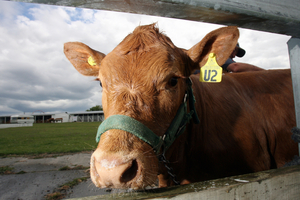 New Zealand is "well behind" in beef and cattle breeding programmes, according to experienced Taihape breeder, Marty Crafar.
Mr Crafar owns his own genetics company specialising in sourcing bull semen, and was one of three judges at last Saturday's first inaugural national lifestyle cattle judging and showing course.
Joined by Mike Langtry and Peter McWilliams, the trio offered a range of useful tips for farm and lifestyle block owners from all over the country.
"We are just beginning to understand breeding and genetics," explained Mr Crafar. "At the moment we tend to buy on a visual basis rather than on production."
This course is designed to change all that.
Organiser Ailsa Signal explained, "These animal owners are trained on how to select a good quality beef animal, they are trained to look at all aspects including faults and they are taught how to show their cattle.
This includes dressing, etiquette and preparation of your animal."
A noticeable concern among some of the attendants was the fact that the smaller breeds were often overlooked in competitions.
"Each judge has a different way and is looking for different characteristics. You just need to be able to justify yourself," explained Mr McWilliams.
He pointed out that doing your research in advance would be a definite advantage.
"I once judged a show where there was a gorgeous miniature Angus and I placed him," said Mr Langtry. "The judge needs to do his homework too and have a good knowledge of all the breeds."
- MANAWATU GUARDIAN