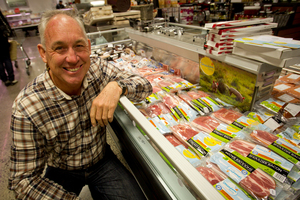 Kiwis spurn local bacon for cheaper pork imports
The pork industry lobby is urging bacon-lovers to buy New Zealand-reared pork in spite of rising prices, amid concerns that the quality of some imported meat is falling below local standards.
The cost of New Zealand-made bacon has been increasing since the Animal Welfare (Pigs) Code came into effect in 2010, forcing producers to meet strict guidelines around the treatment of animals. At the same time, New Zealand Pork says rules around imported meats are being loosened.
The NZ Pork Industry Board is fighting to reverse a recent government decision that will allow imported pork to be sold to Kiwi consumers without being heat-treated first.
The new rule has been put on hold pending a Court of Appeal hearing later this year.
NZ Pork chairman Ian Carter said imported pork that had not been heat-treated would put the local industry at risk of Porcine reproductive and respiratory syndrome (PRRS), a flu-like virus in pigs.
He compared the risk to PSA, which nearly wiped out New Zealand's kiwifruit industry.
Each week, 800,000kg of pork comes into the country. New Zealand, Australia, Finland and Sweden were the only countries free of the virus, but New Zealand's lax country-of-origin labelling meant consumers had no way of knowing where their bacon was sourced.
Humans could not contract PRRS by eating infected meat, but if it got into the animal food chain it would be disastrous, Carter said.
That could happen if infected meat was put into food scraps that were fed to pigs.
The stricter standards required of local pig farmers were brought in following a public outcry when Mike King fronted an expose of a New Zealand piggery three years ago.
Yet imported pork - much of which was sourced from countries with lower standards - remained more popular at supermarkets as consumers opted for cheaper products.
Carter said local farmers faced huge compliance costs. "The uneven playing field is our biggest concern," he said.
Hellers managing director Nick Harris said it sourced most of its pork from Finland, Sweden, North America, Canada and Australia. He said Hellers used local pork in its premium brand.
Beehive's managing director John Kippenberger was unavailable last week, but the company's website said its pork came from Canada, Australia and Europe, and suppliers had to meet the regulations and standards of that country. The company also used local pork in some of its products.
"With more imported finished ham and bacon coming into New Zealand, the combination of local and imported meat allows us to remain competitive."
Freedom Farms co-founder Gregor Fyfe said its meat had "total traceability".
"We can tell consumers where the farms are and exactly what happens on those farms,"he said.