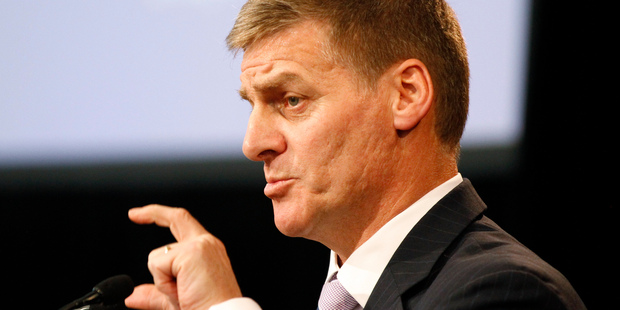 Farmers should focus on helping grow a more competitive Kiwi economy, rather than spending too much time worrying about the gloomy state of offshore economies, Bill English said today.
Speaking at the annual Federated Farmers conference in Auckland, the Finance Minister was blunt about the global economic situation.
"Europe will remain a dark cloud on the horizon and it could turn into a full scale hurricane," English said.
"Over the next 10-15 years would you're going to see regular crises. It's just going to roll on."
While it is a "fascinating process" to watch, English told farmers they need to focus on what can be influenced at home.
"We've got to be careful we don't let that problem paralyse us and certainly that we don't wait for Europe to get fixed because it won't.
"We shouldn't let it get at our own capacity to make decisions about what we can control."
English said getting back into surplus is a key priority and farmers should not expect "more free stuff".
"So coming and asking for any more Government funding than the very generous funding for instance to the Primary Growth Partnership programme, the answer will be 'no'.
"And over the next few years there may be a squeeze on some of your favourite Government programmes. That's the business we're all in."
English outlined three key areas the Government is focusing on to grow a more competitive economy, and talked about the role farmers play in those.
The primary sector needs to ensure it is helping its workers to develop their skills, he said. "You are responsible for the skills in your industry, not the Government.
"We can produce young people with the basic skills. You have to make sure they're actually trained for your industry."
English told farmers they also need to keep working hard on tackling environmental issues.
The next six to twelve months are going to be a vital time for the sector and the economy, he said.
Local Government reforms, changes to the Resource Management Act, and the Land and Water Forum would all bear on the way environmental issues like water contamination would be addressed.
"I've been impressed with the way the farming community in general has really tried to grapple with the tools that it's going to need to ensure that we can keep farming and have reasonable water quality.
"There would have been a time when the farming community would have said 'no, get stuffed we're not doing that'."
Lastly, English spoke about a commitment to infrastructural projects, such as Roads of National Significance and Rural Broadband.
"Despite the fact that money's been tight, we have decided to stick to that because we're backing you for future growth and we want to have the infrastructure there when you need it rather than a constraint on growth."
English joked about another infrastructural project, KiwiRail.
"I've been asked in the last couple of days whether we want to sell it. If someone would give us nothing for it we'd be getting a good deal. But it's not for sale."