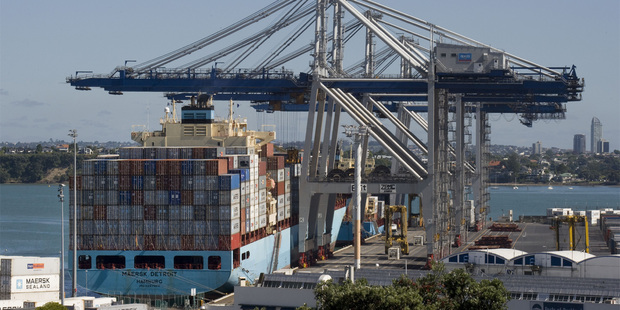 New Zealand's current account deficit widened in the first quarter, mainly reflecting a drop in the goods and services balance as dairy export prices and oil shipments fell and the nation imported more fuel.
The current account gap was $2.8 billion, seasonally adjusted, in the three months ended March 31, up $600 million from the final quarter of 2011, according to Statistics New Zealand.
The annual deficit was $9.7 billion, or 4.8 per cent of gross domestic product. Economists in a Reuters survey had expected a quarterly gap of $1.1 billion, unadjusted, for an annual deficit of $9.4 billion, or 4.6 per cent of GDP.
Weaker dairy prices are casting the biggest shadow on the New Zealand economy, forcing Fonterra to cut its forecast payments to farmers and slowing the pace of GDP. In the first quarter, exports of services also fell, reflecting the drop off in visitors compared to the Rugby World Cup impact in the fourth quarter of 2011.
"The value of dairy exports fell despite an increase in volumes, as dairy prices fell for the third quarter in a row," the government statistician's balance of payments manager John Morris said.
ASB Bank chief economist Nick Tuffley said the current account deficit had been gradually widening since early 2010 but he expected the pace to pick up over the next year.
"The relatively sharp decline in key export commodity prices will constrain overall export incomes, at a time when domestic demand growth (including earthquake reconstruction) will be lifting imports and profits of foreign-owned companies. Consequently, we expect the current account deficit to widen appreciably more than looked the case late last year (when commodity prices were firmer), with the deficit now forecast to peak above 6.5 per cent of GDP around mid-2013."
Further out, recovery in commodity prices would help constrain the deficit, and there were tentative signs that the prices are stabilising.
"NZ's net foreign liability position will continue to increase over the next few years (and it has been artificially lowered in the short term by earthquake insurance obligations of foreign insurers that have yet to be paid). Consequently, NZ is still vulnerable to the whims of its creditors," said Tuffley. "Encouragingly, signs of gradual rebalancing continue. Private sector reliance on foreign savings is reducing, and eventual stabilisation of the Government's debt levels will further contribute in time."

Reinsurance premiums rose following the Canterbury earthquakes, which lifted overall insurance payments in the year by $400 million. Outstanding reinsurance claims fell to $11.9 billion at March 31, down $1.2 billion from December 31.
The annual deficit mainly reflected fatter profits earned in New Zealand by Australian banks, even as their earnings fell in the latest quarter.
The surplus on goods narrowed to $117 million in the first quarter, seasonally adjusted, the smallest since December 2008 and a slump from the $899 million surplus in the fourth quarter last year. Exports of goods fell $497 million in the latest quarter while imports rose $402 million.
The services deficit rose to $332 million from a deficit of $214 million three months earlier, mainly reflecting a drop in spending in overseas visitors, while kiwis spent a record $1.17 billion abroad as the strong kiwi dollar made travel cheaper.
Profits of foreign-owned companies fell $452 million in the latest quarter while dividends paid to foreign direct investors by New Zealand companies declined by $822 million. In the year, the income deficit widened to $10.77 billion, which was $982 million wider than the deficit a year earlier.
There was a $200 million net outflow of investment in the latest quarter as a $1.8 billion outflow of New Zealand investment abroad was offset by a $1.6 billion inflow of foreign investment in the local economy.
New Zealand's net international debt position was $141.2 billion at March 31, a decline of $3.6 billion from three months earlier.