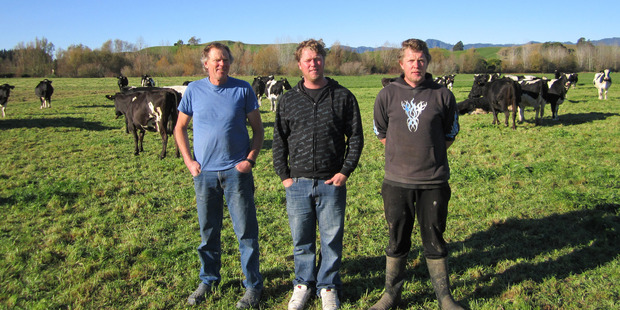 Some farmers are being forced to rethink their succession plans as a result of high land prices and poor returns.
In the past, it was common for an adult son or daughter to take over their parents' farm when they retired. But a big increase in farm prices over the past decade and the structure of ownership of many farms has put them out of reach of many young farmers, even with family help.
Federated Farmers spokesman Bruce Wills said the amount of debt that was taken on when land prices increased during the past decade was a big problem for farmers now wanting to retire or move on.
Rural debt topped $47 billion and many owners could not afford to sell their farms to their children for a cheaper price even if they wanted to.
Wills said the fact that beef and sheep farms often gave returns close to zero made it even harder to get loans.
Real Estate Institute rural specialist Bryan Peacocke agreed it was harder for sheep and beef farmers than it was for those in dairy because they did not have the sharemilking route to build up equity in a herd and banks often required 80 per cent equity on sheep and beef loans.
"For parents retiring, that means in many cases they can only take 20 per cent equity out and that might not be enough to buy another home."
Often the only option was to sell to an outside buyer. Some opted for joint ventures with their children. The parents' capital enabled them to borrow for a larger farm and the addition of other farmers helped to service the lending.
"There are a number of equity positions available for managers," Peacocke said. "They are committing themselves to labour and in some cases herd ownership but it provides security of staffing to the other investors and the farm owners. Often there is a defined period with an exit strategy arranged where they will be bought out or increase their shareholding as a stepping-stone to ownership."
Ian Blackman, a lawyer specialising in the rural sector, said if two or more children wanted to take over the farm, buying a bigger one - or another one - was often the only option.
Sovereign chief executive Charles Anderson said a lack of succession planning in New Zealand meant farms were vulnerable, which could tear families apart.
Blackman said the farm should be in a company that owned all its assets and shares, which should then be sold to successors over a long period.
Half the country's farms were in trusts set up to cut tax bills. But that meant that when a farmer died, the farm was split between each beneficiary equally. If one child was working on the farm and the others were overseas earning big incomes, that would be unfair.
Wills agreed that any succession plan had to be fair to children who took over the farm as well as those who did not.
"Equity and equal aren't the same thing and $100,000 in the farm passed on is not the same as $100,000 in cash."
Combined venture for family
Bay of Plenty dairy farmer Tony de Groot has been running his 169ha farm for a decade. But with two adult sons and De Groot wanting to move to a larger farm, he was torn over which son would be the most worthy successor.
He decided to sell the land and go into a joint venture partnership with both sons, Michael and John.
It seemed the fairest way to pass on a family legacy, he said. "This way the boys both get a foot up the farming ladder, which will enable them to either grow their sharemilking herds or eventually buy their own farms. Both the boys are excellent farmers and I would trust either of them in taking over my unit and running it well. Other than tossing a coin for one buying out the other, the fairest way was to sell my farm and buy a bigger one which could sustain three herds."
The farm he is selling has a valuation of $4.2 million.