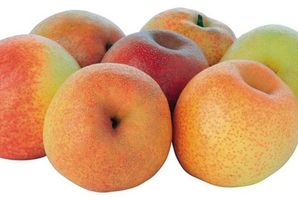 New Zealanders reckon an apple-shaped pear nicknamed the "papple'' passes the taste test, but many wouldn't pay the steep prices the fruit fetches on the export market.
The locally developed pear, a hybrid of Chinese and Japanese varieties, went on sale in Singapore this week after causing a stir in Britain, where they are selling for 1 (NZ$2.10) each at Marks and Spencers stores.
The variety is still too new to have a trademark name, but the British press has already labelled it the "papple'' thanks to its apple-like shape.
The pears were developed by state-owned Plant and Food Research and are grown in Motueka.
They have the same crisp, juicy texture as nashi pears but taste more like European pears, with sweeter and more complex flavours than Asian varieties.
The pears won't be on sale here anytime soon thanks to the high prices they fetch on the export market, but APNZ's informal taste test in Wellington today showed there would be an appetite for the unique fruit here.
Olivia Simcox said it tasted like a nashi.
"It's quite similar, it's just a different colour on the outside.''
The price was perhaps too steep, however.
"Maybe at first for the novelty factor, but I wouldn't buy it regularly for that much.''
Helen Lomas liked the taste and would buy one if it was the same price as a normal apple.
"It's actually really good - really, really good.''
Some people liked "papple'' as a name but others, including Hugh Ferguson, did not.
"The word `pap' doesn't have a good connotation, but it can't be any worse than Zespri,'' he said.
One woman, who did not want to be named, said the name was "kind of lame''.
She wasn't a fan of the fruit, either.
"It's a bit watery ... it tastes like watermelon.''
Matt Thorn of sole exporter NZ Direct, which supplied APNZ with pears for the taste test, said they sold themselves because of their unique shape and colour but it had been difficult to get them onto shelves while a trademark name was still being settled on.
"That's probably the biggest problem at the moment, but once it's on the shelf I think the product is completely different from anything else.''
In the interim, the variety was being sold as the "sunshine pear'' at NTUC Fair Price supermarkets in Singapore.
"We've had to call it something to get traction.''
Mr Thorn said he liked the name "papple'' - a term coined by the British press.
"I think it's quite good. They're creating a circus about a product that's got no name, that looks quite good. It's actually quite clever, I think.''
Mr Thorn said his company had shipped about 20 tonnes this season, with 70 per cent going to Asia and the rest to the UK.
He hoped the pears would do well in Singapore, where there was a large expat community.
"It's a completely different looking pear or apple, or whatever you want to call it, so we just think it should sell itself because of the way it looks,'' he said.
The retail price in Singapore was yet to be finalised, but Mr Thorn was hoping Asian markets would pay similar prices to those in the UK.
Prevar chief executive Brett Ennis - whose company licenses the rights to grow, market and sell the PremP109 pear variety - said the company hoped to settle on a trademark name for the variety soon.
It was also hoping to develop a global trademark for the whole hybrid pear category, of which the so-called "papple'' was just one variety.
- APNZ