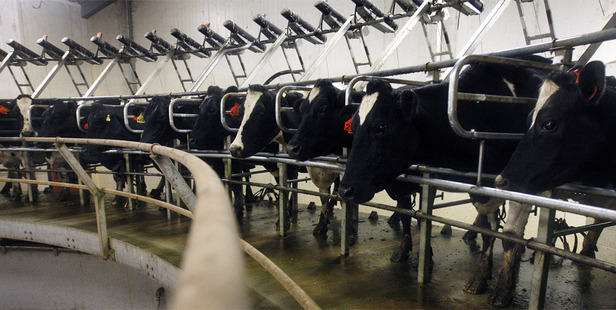 Prices of dairy products fell for the third straight sale in Fonterra's overnight auction, reaching a new three-year low as China's slowdown and euro-zone uncertainty weighed on commodities.
The GDT-TWI Price Index fell 6.4 per cent compared to the last sale two weeks ago. The average winning price dropped to US$2,618 a metric tonne, the lowest since August 2009. The price of whole milk powder fell 8.9 per cent to US$2,546 a tonne and skim milk powder fell 5.4 per cent to US$2,573 a tonne.
The average price at the sales has now shed 41 per cent in the past 12 months and this year prices have declined in eight of the 10 auction events. The decline reflects a broader slide in commodity prices as traders factor in weaker demand from China, uncertainty in Europe that has helped drive up the US dollar and increased supply.
The Thomson Reuters/Jefferies CRB Commodity Index has declined to its lowest since October 2010.
Anhydrous milk fat dropped 11.9 per cent to US$2,499 a tonne in the latest auction. Cheddar fell 0.2 per cent to US$2,857 a tonne and milk protein concentrate declined 1.3 per cent to US$3,940 a tonne. Rennet casein rose 0.7 per cent to US$6,244 a tonne.
There were 136 winning bidders over 12 rounds, out of 147 participating bidders. The number of qualified bidders rose to 635 from 620.