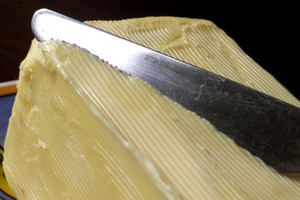 Tightening supplies have pushed global butter prices to their highest level in two decades, according to NZX Agrifax.
The agricultural information provider says data from the United States Department of Agriculture show butter stocks - although increasing - are 38 per cent lower than a year ago.
NZX Agrifax head dairy sector analyst Susan Kilsby said international butter prices had increased by 147 per cent over the past two years to US$4700 ($6100) a tonne.
Butter had the biggest price increase in Statistics New Zealand's latest food price index, with a 62 per cent jump in its cost year-on-year - $2.61 to $4.25 for a 500g packet.
Milk rose by 14.7 per cent and cheddar cheese by 24.4 per cent.
Rob Chemaly, general manager of retail for supermarket operator Foodstuffs (Auckland), said that despite the rising costs, consumer demand for dairy products was steady.
Bank of New Zealand economist Doug Steel said the rise in the price of butter was being caused by increased demand, especially in emerging economies, at a time when stocks were at reduced levels.
Other factors included grain prices, driven up by Russia's worst drought in over a century last year, which were increasing feed costs for dairy farmers in many parts of the world, particularly the United States.
That, in turn, drove up global dairy prices; a boon for New Zealand farmers who benefit from higher returns while avoiding the downside as a result of their mostly pasture-fed herds.
"I think milk production growth is starting to slow and should slow through 2011 as those higher production costs put further pressure on producers," Steel said.
"Even if they are adding cows the milk flow per cow is not likely to grow. If anything it might go backwards a bit."
He said weather events around the world - such as a cold Northern Hemisphere winter and storms, floods and drought in Australasia - would put further pressure on global dairy production.
Intervention by Governments to protect their populations from rising food costs would also place upward pressure on prices.
"Those sorts of things are just starting to filter through," Steel said.
India's Government this month slapped an export ban on onions and scrapped taxes on their importation after the price of the vegetable, a vital component of most Indian foods, more than doubled in the space of a few weeks.
Pakistan, facing a similar situation, has followed suit.
Steel said India was also looking to reduce import duties on milk to lower domestic prices. "Obviously, if India takes [more milk] from the world market that will drive up the globally traded price," he said.
Steel said government intervention was not the answer to rising food prices.
"The answer is you've got to produce more," he said. "To produce more you've got to encourage producers to make more and you do that by letting the price flow through to the producer."
ON THE RISE
2011 - $6123 a tonne
2010 - $4880 a tonne
2009 - $2472 a tonne