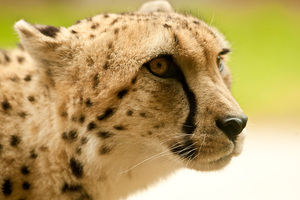 Just months after an idyllic holiday with family in New Zealand, a globetrotting tourist has been mauled by a cheetah in South Africa.
The attack on 60-year-old Violet D'Mello, from Aberdeen, was captured on film by her husband who was watching from outside the enclosure.
D'Mello had gone to the aid of two children who were being attacked by the big cats.
She was lucky not to lose an eye when the supposedly tame cheetahs at a Port Elizabeth game park knocked her to the ground and gnawed at her head this week. She needed stitches to her head and suffered injuries around her eyes and leg.
D'Mello's daughter Ria spent a year working as a doctor at Wanganui Hospital, but returned to Scotland a few months ago.
A friend, who did not want to be named, said Violet D'Mello stayed with her and Ria in Wanganui during a holiday to New Zealand last year.
D'Mello told South Africa's Herald newspaper her dream South African holiday had turned into a nightmare.
"They weren't being vicious. You could tell they were just excited but it became serious very quickly."
The scene was captured by D'Mello's husband Archie, who was outside the enclosure when the attack took place. He had earlier photographed his wife stroking one of the cheetahs on its head.
Big cat expert Graham Kerley, from the Centre for African Conservation Ecology, said adult cheetahs were wild animals and could hurt people very badly.