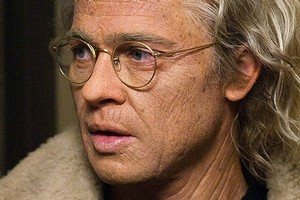 Last week saw the release of Clint Eastwood's high profile new biopic, J Edgar, starring Leonardo DiCaprio as the founding director of the FBI, J Edgar Hoover.
The film tracks Hoover's life from his youth in the 1920s right up until his death aged 77 in 1972, and features some of the best old age make-up I've ever seen in a film.
As good as it is though, one thing make-up can't mask is stature, and DiCaprio's strapping physical form betrays his youth from beneath the latex. Old men don't have broad shoulders or a looming presence, and both of these elements are easily perceivable in DiCaprio's performance.
DiCaprio's youthful appearance has long been his biggest hindrance as an actor, and despite his stellar work in J Edgar (and the amazing make-up), his youthful demeanour once again pulled me out of the movie.
Naomi Watts, who plays Hoover's long-serving secretary Helen Gandy, has some amazing old age make-up as well, and seems to sink into her older appearance with more ease than her male co-star.
Watching J Edgar got me thinking about some of the more notable examples of old age make-up in cinema history.
The game-changer was the 1970 Western Little Big Man, in which Dustin Hoffman portrays a 121-year-old. The make-up appliances were created by the legendary Dick Smith (who would go on to do awful things to Linda Blair in The Exorcist, and mentor An American Werewolf in London's Rick Baker) set a benchmark for quality in the field and hold up pretty well today.
He was only aged a decade or so, but the make-up on Russell Crowe in The Insider was pretty darn impressive; as was F Murray Abraham in Amadeus (Dick Smith won an Oscar for this work).
I recall being somewhat impressed at the time by the old age make-up applied to Winona Ryder at the beginning of Edward Scissorhands, but a recent viewing had me questioning that assessment. The older Michael J Fox from Back to the Future II looked like a Dick Tracy villain.
Probably my favourite aging make-up occurred at the end of Indiana Jones and The Last Crusade, when the bad guy drinks from the wrong chalice and suddenly grows really old and expires.
Digital cameras are particularly unforgiving on latex make-up, and the rise of digital high-resolution filmmaking has only made it harder for latex make-up appliances to go unnoticed.
When I saw Harry Potter and the Deathly Hallows Part II in 3D, I was amazed by how much the goblin masks from the opening scenes stood-out as fake-looking, an observation I shared with the director at the press junket, who tacitly agreed with me.
It will be very interesting to see how old-age make-up develops in the digital era. We've already have a few examples of CGI being used to de-age actors (check out Click and X-Men: The Last Stand) - which looks AWFUL.
Although the CGI used to make Brad Pitt a frail old man in The Curious Case of Benjamin Button was pretty cool.
Check out the trailer for J Edgar:
What are your favourite examples of old age make-up? Does DiCaprio ever convince you playing an older character? Or does his youth pull you out of the movie?