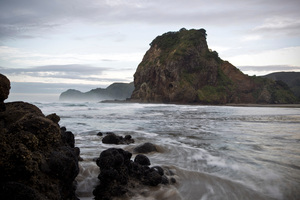 A woman who fell 15 metres from Lion Rock at Piha yesterday was outside the safety barriers, emergency services say.
The 22-year-old suffered severe cuts and a suspected broken elbow after falling down a steep slope onto rocks about 2.20pm, but was lucky to escape more serious injury.
Piha Surf Life Saving Club patrol captain Gracey Monteith said lifeguards were alerted to the incident on Sunday by the woman's boyfriend.
Ms Monteith said lifeguards took her on a stretcher to the surf club, where her wounds were dressed.
She had taken a knock to the head, suffered deep grazes down her right side, severe cuts to her right elbow, and a suspected broken elbow.
The woman was taken by the Westpac Rescue Helicopter to Auckland Hospital, where she was was in stable condition today.
Ms Monteith said no one else saw the fall, but the woman must have been outside safety barriers when she fell.
However, it wasn't clear whether she had walked up the marked track and then climbed over the barrier, or had been attempting to climb the steep slope where she fell.
St John Ambulance volunteer Fiona Anderson said the woman was very lucky not to have suffered more serious injury.
"How that girl wasn't killed was beyond me,'' she said.
"She's a very, very lucky young lady.''
Ms Anderson said she appeared to have been off the track about half-way up on the south side of the rock when she fell.
"It's never a smart idea to come out here and cross the safety barrier.''
She had seen a lot of walkers going up the rock and over the barriers recently, she said.
Surf coach Phil Wallis said thousands of people enjoyed Piha beach and Lion Rock without coming to harm, but it was important they respected the dangers.
"I think we need to put a sign, something like `This rock is sacred, tread carefully'. We need people to be aware when they go up there.''
In August last year 36-year-old Lianne Greer fell to her death after climbing the rock at 2am wearing high-heeled boots.
In 2010 two men fell about 60m from the rock suffering critical injuries. The 18-year-old and 31-year-old fell about 12.15am, and had walked past a sign warning people not to go further because of erosion.
An 18-year-old died in 2006 after falling in the early hours of the morning while camping on the rock.
- APNZ