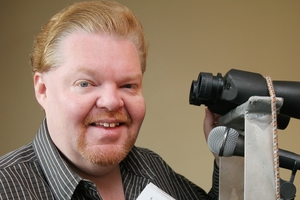 A drunk driver breezed through a police breath test despite being almost four times over the drink-drive limit - and was killed in a crash shortly afterwards.
After the death, police have issued a notice to all staff reminding them to hold the device close to a person's mouth to ensure a good sample is captured.
Racecaller Darren Tyquin's black Toyota Celica failed to take a bend just north of Belfast, Canterbury, and rolled down an embankment. Tyquin, 41, died at the scene.
A previously unpublished report into the March 2009 accident released this week to the Herald on Sunday reveals Tyquin had a blood alcohol reading of 310 milligrams per litre - almost quadruple the present 80mg limit.
Tyquin, however, had shown no signs he had been drinking when tested by a police officer using a hand-held device outside a McDonald's restaurant, just 38 minutes before the 1am smash.
A police spokesman said it was the only occasion they were aware of where a negative passive test has subsequently been contradicted by a very high blood alcohol test result.
"It appears to have simply come down to the officer not holding the device close enough to Mr Tyquin while conducting the test to capture an accurate breath sample," he added.
About 3000 of the Alcotest devices have been supplied to police in the past six years.
The breathalyser used to test Tyquin was found to be in good working order and there had been no need to recall any others, said a spokesman for German manufacturers Drager.
"What happened in this case is an inexplicable anomaly. The units are used very successfully by a large number of law enforcement agencies worldwide."
Tyquin's former wife Jill Tyquin-Smith, from Cambridge, Waikato, has since remarried but said she was still haunted by events of that night.
"I keep asking myself how many times this has happened, or was it simply a one-off? Surely the police should recall these machines and have them all checked. There is no question Darren was in the wrong for drinking so much but this is an accident and a death that could have been avoided."
Patrick Holmes, now living in Brisbane, was the sole passenger in the car at the time and was stunned when told about a coroner's findings.
"Darren and I had been drinking before the crash and we were both very surprised when the test done at the McDonald's came back negative.
"Darren had clearly drunk far too much but if the breathalyser had been working properly he would not have been allowed to drive and might still be here today. I would hate to see something like this happen again."
Coroner Sue Johnson concluded Tyquin died after being asphyxiated by his seat belt. She laid no blame with a constable who had administered a passive alcohol screening test on Tyquin before the crash, using a Drager Alcotest 6510 unit.
The device, which had displayed a "no alcohol" reading, was checked and no fault was found, Johnson said - but she forwarded her findings to then- national road policing boss Paula Rose.
Johnson said there was evidence Tyquin had been drinking before being breath-tested and there was "no question" the device had failed to pick that up.