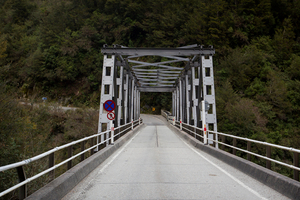 The family of missing Canadian tourist Connor Hayes are coming to New Zealand next week and hope to hold a memorial in the small South Island town where he was last seen alive.
Mr Hayes, 25 and his girlfriend Joanna Lam, 24, were travelling from the West Coast towards Queenstown on September 10 when their camper van was caught in a massive slip in the Haast Pass and swept into the river below.
Six days later, when Ms Lam did not turn up for her first day at a new job in Nelson, the couple were reported missing. Police found the chassis of their campervan wrapped around a large rock in the river. Debris from the camper was found between the crash scene and the coast, 50km away.
Ms Lam's body washed up on North Haast Beach on September 20, but Mr Hayes is still missing.
Senior Sergeant Robin Manera from the Haast police has been in contact with the families, and expected Mr Hayes' parents to arrive in the area early next week.
"The Hayes are devastated," he told the Weekend Herald.
"Connor's parents are coming out here to spend a bit of time. That will be good for them I think. Our hearts go out to the families. They are stuck on the other side of the world and they can't do anything about it."
After the wreckage was found Haast locals banded together to search for the pair. Mr Manera said the incident had hit the small tourist town hard.
"In these situations the community steps up and does what they can. They rally around, they help out. They are a big hearted people around here; they really are a good community."
The Hayes' would stay at a local motel owned by local Land Search and Rescue member Greg Hope and his Canadian wife Nathalie Giroux who hails from the same area as the missing man.
Mr Hope, also Haast area electoral candidate for the Westland District Council, hoped to help the Hayes' find closure by explaining in depth everything that had been done so far to find their son.
"We just don't want them to think we've stopped searching," he said.
Meanwhile, staff at Ottawa Hospital, from which Ms Lam was on a leave of absence from her position as sonographer, are pitching together to bring her home.
On the hospital's Facebook page, they remember her professionalism, personality and wonderful smile, which will be missed by her friends and colleagues. "It is an incredibly difficult time for those who knew and loved Joanna."
And they urge donations to the Joanna Lam Memorial Fund, set up by the Ottawa Hospital Foundation.
The post says the money will ease the financial burden on Ms Lam's family as they deal with her death.
According to the post, which featured a photo of Ms Lam in blue scrubs, it will cost between $17,500 and $23,400 to bring her body back to Canada. Any extra funds will be donated to the volunteer West Coast land search and rescue team.