Wife killed, daughters injured in crash caused by drunk driver who was double the legal blood-alcohol limit.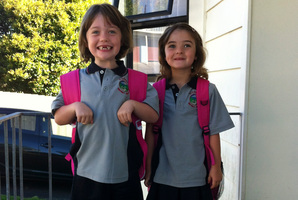 A horrific car accident killed Richard Todd's wife and left both his daughters injured - one so severely doctors warned him she may never recover.
The drunk driver who caused the accident as the trio were returning from a day at the beach just before Christmas appeared in court last week and will be sentenced in August.
But the Todd family are still coming to terms with what happened and have a long road to recovery ahead of them.
TV3 worker Rebecca Todd, 39, died instantly when her car and Blair Alick McMillan's car collided at the intersection of Hamilton and Muriwai Rds, west of Auckland.
Her daughter Caitlin, now 6, was thrown through the vehicle's windscreen, landing 20m away under a bush.
Her other daughter, Brooke, 7, was left inside the car and stayed conscious long enough to ask rescuers where her sister was.
"Brooke was quite lucky, her seatbelt managed to restrain her in the vehicle," Mr Todd said.
"She was in the back right seat behind her sister. It appears [Caitlin's] seatbelt popped ... she got thrown out of the vehicle and down the road.
"If her sister hadn't been coherent and said 'Where's my sister?' they wouldn't have found her."
Speaking publicly for the first time since the December 21 crash, the freelance cameraman, 42, told the Herald of the pain his children had been through, his pride at the strength they have shown and the anger at the man who will be sentenced for causing Mrs Todd's death - while he was more than double the legal blood-alcohol limit.
"My youngest, Caitlin, is doing incredibly well. She is still suffering the effects of a head injury which was very severe but physically she ... I can't tell you how proud of her I am."
But he has been told she may never be "fully" recovered - she spends most of the day in a wheelchair because her muscles have atrophied.
Her calf muscle was severed to the bone. That and her head injury made Mr Todd fear for her life. A paramedic who visited while she was in intensive care told him he couldn't believe her leg had been saved. "When I first saw her I thought she was going to lose a leg - or I would be organising another funeral. She pulled through remarkably well."
After spending weeks in hospital, Caitlin went to the Wilson Centre, on the North Shore, for rehabilitation. But the family know it will be a long road.
"She has her ups and downs. And there are extreme ups and downs."
Brooke suffered less serious injuries but like her sister is traumatised by the loss of her mother. A new puppy had lifted their spirits.
One of the family's dogs died in the crash and their second died a week later - "from grief, we think, because she was fit and healthy and just died in her sleep. The girls have had to deal with that loss as well".
He would never forget the knock at the door on December 21 when a police officer told him what had happened.. He'd been waiting for them to arrive after a day at Muriwai Beach.
The next few days were a blur, but Mr Todd got the "best Christmas present ever" when Caitlin woke up on Christmas Day.
"They had prepared me that she was potentially going to be a vegetable [but] she woke up on Christmas Day and talked to her sister."
Brooke told her she had a broken arm, broken leg and "broken head" and Caitlin replied: "Actually I've got two broken arms and this one is really stupid 'cause I can't move it."
Mr Todd wasn't in court when McMillan appeared last week. "I've deliberately not thought of him - I've got to stay away because I'm still seething."
But he would deliver a message to him through his victim impact statement when McMillan is sentenced in August for causing Mrs Todd's death while driving drunk and two charges of injuring.
"I hope the justice system gives my daughters and me justice. I've seen so many cases where these cases are just pushed to the side and they get nothing. I hope he gets what he deserves for what he's done ... to my little girls. He's taken something from the girls that they'll never get back."
McMillan had a blood alcohol reading of 163mg. The legal limit is 80mg.