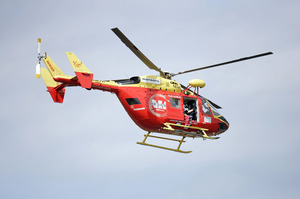 A rescue helicopter winched a woman out of dense forest in the Tararua Ranges after a medical emergency yesterday.
The woman in her 40s had been walking with a group on the Raingauge Spur Track north of Wellington when she needed help about 5pm.
Life Flight Trust crewman Julian Burn said the Westpac rescue helicopter was dispatched after the group activated an emergency locater beacon.
The crew used the signal to locate the group under a dense forest canopy between Jumbo Hut and Aitiwhakatu Hut.
The terrain made it impossible for the helicopter to land, so the pilot found a nearby clearing where a Wellington Free Ambulance paramedic was winched to the ground through a gap in the tree tops.
The paramedic hiked a short distance to the patient, who was winched onto the helicopter.
She was taken to Wellington Hospital for assessment and treatment.
Meanwhile, the Nelson Marlborough rescue helicopter was called to a car crash southwest of Nelson yesterday.
A couple in their 70s were airlifted to Nelson Hospital after the car they were in lost control and rolled on Wai-Iti Valley Rd in Belgrove.
Shortly afterwards, the helicopter was called to Rabbit Island where a 15-year-old girl was thrown from her horse and landed heavily on her face.
She was treated by the on-board intensive care paramedic and flown to Nelson Hospital.
Earlier, a 66-year-old woman was injured when she fell from a horse at Raupunga in the Hawkes Bay.
The Lowe Corporation rescue helicopter flew her to Hawkes Bay Regional Hospital with suspected hip and rib injuries.
- APNZ