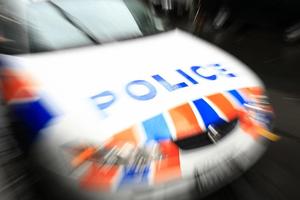 Waikato police say the consequences of poor decision making are readily apparent as officers investigating the death of a young man early this morning deal with a variety of victims.
District Commander superintendent Win van der Velde said at a press conference in Hamilton that family liaison officers were working with the family of a 17-year-old Hamilton man who died after the stolen car he was trying to flee from police in crashed into a stone retaining wall.
"The young man's family are understandably devastated by what has happened but there are other victims who were are having to help navigate through this whole tragic process."
"Those other victims include a 14-year-old boy who was affront seat passenger when it crashed who is currently in Waikato Hospital with serious leg injuries. Another is a 15-year-old girl travelling as a rear seat passenger who was able to walk away from the crash because she had the presence of mind to be wearing her seatbelt."
The 17-year old was spotted by police driving, with two passengers, without any headlights on Rotokauri Rd in the west of Hamilton shortly before 2am today.
An officer activated his patrol car's lights and sirens to get the driver to pull over, but he sped off at "high speed''.
"The officer has notified the Northern Communications Centre that a pursuit has been initiated,'' said District Road Policing Manager, Inspector Marcus Lynam.
After travelling about 1km, the officer raised concerns about the youngster's driving and radioed that the pursuit was being abandoned on Baverstock Rd.
"The officer has then crested a hill and saw the offending car in the distance appear to lose control and crash into a road sign before hitting a stone retaining wall near the intersection of Wexford Rise,'' Mr Lynam said.
The 17-year-old driver was ejected from the vehicle and died at the scene despite first aid attempts of the officer and efforts by attending ambulance staff.
The accident is now the focus of three investigations by police, the independent police conduct authority and the coroner.
- APNZ