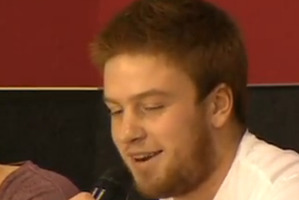 The teenager driving in the fatal Bethlehem College crash would not have been legally allowed to drive the HiAce which rolled in Kenya.
The Tauranga school admitted this week former student David Fellows, 18, was driving the van which crashed last month, killing four people.
Kenya's Traffic Act requires drivers of minibuses - known as "matatus" - to be at least 24 years old and have held a licence for cars or commercial vehicles for four years or more. A matatu is defined as a public service vehicle (PSV) having seating for up to 25 passengers.
Bethlehem College's board of trustees chairman Greg Hollister-Jones said he had "no idea" if the law was discussed before the fatal journey.
Traffic laws were the subject of a major publicity campaign in Kenya while the college group were there. Kenya Broadcasting Corporation deputy editor-in-chief Samuel Maina said Kenya's Ministry of Transport launched "a huge campaign" around mid-November in five major newspapers, five TV stations, and around 10 radio stations.
"The issue of road carnage is a big issue in Kenya," Maina said.
If Kenyan authorities deemed the Ark Quest Academy HiAce - which was marked "School Van" - was a vehicle intended for public service, more offences could have been committed.
Under Kenyan law, it was an offence for a non-designated person to drive a PSV, or for other people to allow such a person to drive.
"If you're running a taxi, school van, a bus, minibus, tour van - all that falls under PSV and I think all the rules apply to that uniformly about what you need to have if you're operating a PSV," said Amar Mehta, senior associate at Nairobi-based Coulson Harney law firm.
Initially, Kenyan man Christopher Mmata was falsely named as the driver in the January 16 crash. He died, as did three New Zealanders. Fellows has since apologised - and acknowledged there should not have been a driver swap - but it remains unclear who prevented Fellows being immediately identified as the driver.
Hollister-Jones said the college was investigating. "I've been saying for days the circumstances around the driver swap will be the subject of the board's inquiry." The Bethlehem College group were building and maintaining school facilities in Mahanga, roughly 375km northwest of Nairobi.
Former Bethlehem College pupil Caitlin Dickson, 19, and Tauranga couple Brian and Grace Johnston died in the accident and were farewelled last week.