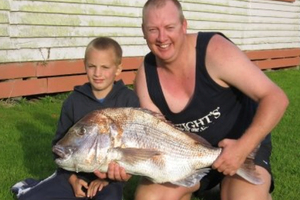 An 11-year-old boy ran for more than 6km in pitch darkness with only socks on his feet after a crash that claimed the life of his father.
Hunter Bennett crawled from his father's ute, which crashed into a paddock north of Haast in south Westland, just after 5am yesterday.
His father Craig Bennett, 40, was thrown from the vehicle. Hunter could not find his father in the darkness, so he decided to run for help.
Westport Senior Sergeant Tim Crawford said the accident happened about 5km out of Haast. He said it appeared Mr Bennett had veered across to the right-hand side of the road, and then overcorrected, sending the Toyota Hilux ute through a fence into a paddock.
Mr Bennett was thrown out and the vehicle then rolled on him, killing him instantly.
Mr Crawford said Hunter, who had minor injuries, was still in the vehicle when it stopped rolling.
"Obviously he hasn't been able to find his father in the paddock, so he's run back into town in his socks," he said.
"It was courageous, and very tragic ... One can only imagine. It would have been pitch black, it would not have been warm, and he'd been involved in that level of crash and wasn't able to find his father.
"That run must have been horrific for him. He's done amazingly well."
Hunter got to a police station about 7.30am and raised the alarm. Emergency services found the wreckage and Mr Bennett's body soon after.
The 11-year-old was airlifted to hospital.
"We brought him back to Grey Base Hospital, where his granddad was waiting for him. He has a huge black eye and a few bruises, he's an amazing kid," said Solid Energy Rescue Helicopter pilot Angus Taylor.
Hunter was at his grandfather's house last night, being supported by family and waiting for his mother, Emma White, to arrive from Australia.
The family had been living in Haast but moved to Queensland last year. Mr Bennett was working for a mining company in Cannonvale, but had returned to the West Coast with Hunter for a holiday and to pack up the last of their possessions in Haast.
Mr Bennett wrote on his Facebook page that they were coming back for "the roar" - the mating season for deer.
"Look out NZ. Hunter and Major are gunna be back for the roar on April 5. Can't wait," he wrote.
He was also enjoying life in Australia.
"Lifestyle great. Job's great. Jeez, it's scary when I have nothing to complain about," he wrote on New Year's Day.
He had earlier posted comment about mining over the Tasman, saying he was working five months a year for good money.
Mr Bennett and Hunter were understood to be on their way to catch a flight back to Australia when the crash happened.
Mr Crawford said serious crash unit investigators and forensic experts had been examining the crash scene. No other cars were involved, weather and road conditions were fine and the crash happened on a straight stretch of road.
The matter would be referred to the coroner.
Mr Bennett went to school in Hamilton and worked on the West Coast as an earthmover and at a coal mine.
He was a hunter, fisherman and diver.
He was also a qualified diving instructor and held a commercial helicopter pilot's licence.