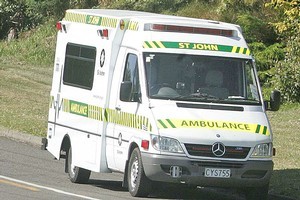 The Easter road toll officially ended at 6am this morning, and it appears to be the first holiday weekend on record with no deaths from road crashes.
Police are yet to report any fatal accidents over the four-day weekend, although an elderly man died on Sunday after suffering a heart attack and then crashing his car in Glen Innes, East Auckland.
However there is always a chance of someone involved in one of more than 450 road crashes attended by police since Thursday night dying later of injuries.
These included a two-car crash on State Highway 49 between Waiouru and Ohakune late yesterday morning, from which a patient was flown to Wanganui Hospital with serious injuries.
Even so, acting national road policing manager Inspector Rob Morgan said 455 crashes attended by his staff between 5pm on Thursday and 1pm yesterday were 12 per cent fewer than 517 recorded for the same portion of Easter last year.
He said the police already had much to celebrate in getting through four days without having to attend a fatal crash, regardless of the time of year.
Last year, the police got through Queen's Birthday weekend without a road fatality, only for the victim of a crash over that holiday to die of his injuries more than a fortnight later.
Mr Morgan acknowledged that to achieve a zero toll over Easter, making it the first public holiday of no road deaths since records began in 1956, would be an even better result than for Queen's Birthday weekend - when fewer people leave home.
He said last night that this Easter carried extra concerns than in some other years, as it coincided with the start of the school holidays.
Conversely, not having to bring children back to school at the end of the weekend may have taken some pressure off the roads yesterday.
"Sometimes congestion is a blessing when you are talking about road safety but there are so many variables it is hard to know what's going to happen," Mr Morgan said.
"From our point of view, we just identify the risks and get out there and do what we do - enforcing road rules.
"Our cops have still been picking up people offending, but on the whole drivers have been reasonably well-behaved."
Transport Agency chief highways adviser Dave Bates said that although homebound traffic was heavy at many usual pressure points yesterday afternoon, a relative lack of crashes allowed reasonably uninterrupted flows.
Traffic moved slowly for several hours past Warkworth, north of Auckland, Mangatawhiri on State Highway 2 in the northern Waikato, and Otaki near Wellington.
One traveller who was making her way back to Auckland travelled at 20 km/hr for more than 20 minutes in traffic on State Highway 2 that was backed up to the Red Fox Tavern in Maramarua.
The new Kopu Bridge coped with crowds heading to and from the Coromandel Peninsula.