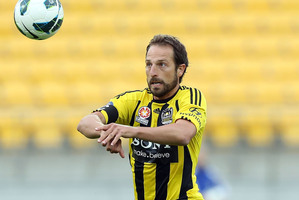 New Zealand Football remain hopeful that Andrew Durante will be available for the critical World Cup qualifying matches next month but the presence of the Phoenix skipper is by no means assured.
With less than four weeks before the match against New Caledonia, the national body is waiting on Durante's citizenship application. Once the 30-year-old has become a citizen and obtained a passport, the final step in the process is in Zurich, where Durante has to obtain official FIFA clearance.
Durante's application was filed to the Department of Internal Affairs at the beginning of this month and NZF has asked for the process to be fast-tracked. It is uncertain how long the FIFA process will take; if the world governing body approve the request at face value it could be relatively swift. If they choose to investigate the background and circumstances of Durante history (which has seen him picked for various Australian squads including the Socceroos but never actually take the field), the process could be more drawn out.
"It's hard to say when it could come through," says NZF High Performance manager Fred De Jong. "We've had no indication on the process. We are trying our best to get it done as quickly as possible and have asked for [the application] to be fast-tracked, given the circumstances."
The All Whites play New Caledonia in Dunedin on March 22. A draw will be enough to seal their position as Oceania champions but a negative result would see their fate in the balance until the final round four days later, with New Zealand facing a tricky away tie against the Solomon Islands while New Caledonia host the hapless Tahitians (who have lost four from four).
Durante is no certainty to be selected but it seems highly likely. He has a close working relationship with Ricki Herbert and there are high levels of mutual respect between the pair. The unfortunate retirement of Ryan Nelsen has left a spot in defence and the Australian is surely next in the queue, ahead of the likes of Michael Boxall and Andy Boyens.
Presuming Herbert sticks with his favoured back three, Durante would be fighting with Ben Sigmund for the third spot alongside Winston Reid and Tommy Smith. Ivan Vicelich is another centre back option but is more likely to be used in his holding midfield role.
Herbert is expected to name his team in the first week of March. He may also select Durante with an asterisk pending FIFA clearance, though that would not be ideal for planning purposes.