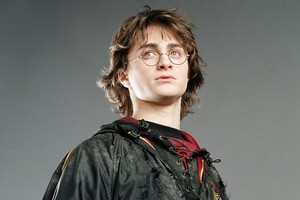 It's been four years, three films and US$2.6 billion ($3.8 billion) since we first met Harry Potter on the big screen. Time has been good to the beloved, bespectacled Potter as he grows up in the latest and most provocative instalment, Harry Potter and the Goblet of Fire.
Again played by Daniel Radcliffe, 16, we see Harry face his fears as he fights his nemesis Voldemort (Ralph Fiennes), as well as the equally challenging ordeal of navigating through the minefield of teenage angst and stirring hormones.
At a press conference at London's historic Merchant Taylors Hall, a taller and much more articulate Radcliffe says, "In a way I've been going through the same things as Harry. Especially the hormones and all of that which is very fresh in my mind. I've been playing him since I was 11 and I feel that our lives have paralleled in a way."
With a reported budget of US$130 million, Goblet of Fire is directed by Mike Newell (Mona Lisa Smile, Four Weddings And a Funeral), the first Englishman in the job after Chris Columbus and Alfonso Cuaron.
"It was very daunting to take on this task, of course," says Newell. "To start with, the books are as big as a house brick. It was a bit overwhelming because the fan-base is so passionate. But looking back, I'm terribly proud of this movie."
Along with staple cast members Rupert Grint, 17, and Emma Watson, 16, Newell brought in some fresh faces including Miranda Richardson, Brendan Gleeson, and newcomer Cedric Diggory.
Undoubtedly, the most violent movie to date of J.K. Rowling's novels, The Goblet of Fire is the fourth instalment of the supernatural saga, and may alienate its younger audience.
Says Watson: "Well, to some extent we might have lost some of the much younger audience because, quite frankly, I'm in it, and even I got scared watching the movie. But at the same time, it's much more of a thriller than the previous ones. There's no denying there are some very serious and deep topics that you can't avoid. But I love that it doesn't pull any punches. It's very true to the book.
"It's definitely not for 5 or 6 olds unless they were raised on watching Lord of the Rings and The Exorcist."
Dungeons, dragons and wizardry aside, Radcliffe found the ballroom dancing scene the most horrific to shoot.
"It was definitely my most embarrassing moment. I really enjoyed it because the girl I was dancing with and I had a good time. But I must point out that you'll notice nothing was shown below my waist. You never see my feet move - which believe me was a good thing. I really wanted to be good at it because both my parents were competition dancers and I really wanted to get those genes. But I guess I didn't."
Not that he has anything to complain about - and unlike other child stars, he doesn't. This 16-year-old, mop-topped star of the famed franchise is bigger than Lindsay Lohan, Paris Hilton and Jessica Simpson combined.
"People don't believe that I can lead a normal life. They think I'm lying, but things really haven't changed that much for me. I'm famous about two days a year and that is when I'm at the premiere. Other than that it doesn't really come into my life."
He pauses. "I have to say that living in a country where the press are not always as kind as they might be, they've been pretty good to us. Maybe that will change when we all turn 18, but so far it hasn't been too invasive."
Like any teenager, Radcliffe is a music aficionado and spends his time and money attending rock concerts and buying CDs. "I love The Libertines, Franz Ferdinand and Green Day. I could talk forever about music," he says. Referring to a comment he made a couple of years ago about joining a band, he smiles, and says self-deprecatingly, "I don't think anyone would say, 'Wow! What was he doing acting?"'
Interestingly, the three primary cast members had to line up outside their favourite bookstore to get the latest J.K. Rowling instalment, Half Blood Prince, just like the rest of the world.
"Yep," says Watson. "I stood in line and read it in two days flat. As for future plot-points, she adds, "I really think that Hermione and Ron just have to get together, this has been going on so long now. Come on!"
Those who have read the Rowling novels know what's in store for Harry Potter but what will the future hold for Daniel Radcliffe?
"I'm doing a film which is set in Australia about a Catholic orphanage."
He's not concerned about being typecast. "I'm not worried about that at all. I think myself, Rupert and Emma have all proven that we're not just child actors any more. I'm really looking forward to the future and doing other roles."
But soon it will be back to the Hogwarts set for Radcliffe as the next film Harry Potter and the Order of The Phoenix starts filming in February. "And I can't wait."