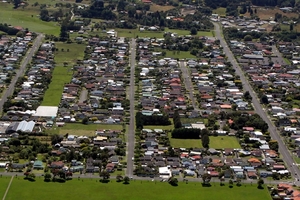 Wanganui has New Zealand's most affordable housing, it was reported in the paper this week.
It's always good to get good news and in the several seconds between pouring my coffee and reading I pondered all the things we could be "number one" in ... lifestyle and temperate climate came to mind.
Having the most affordable housing is not one of these - and, in my mind, it is not something that we should be celebrating.
Why? Because this is an example of celebrating a consequence of negative economic trends. This "number one" rating is the result of us being near bottom on other economic indicators.
The space I am given each week is not enough to adequately describe all of the drivers of this situation. However, in simple terms, our population is declining and, as people move away, more houses become available - then it becomes a simple exercise in supply and demand, with dropping demand and increasing supply forcing market prices down.
Celebrating this is like having a football team that constantly under-performs and rejoicing when the team achieves on a minuscule basis - like Tottenham Hotspur.
So what do we do? To arrest a downward population trend we need industry and a strong business community. We need to invest in the businesses we already have and ensure their strength.
For consumers this means shopping locally rather than travelling to Palmy. For us as a community it may mean pulling out all the stops to bring new business to the city and finding out what we need to do to get current incumbents to expand.
We also need to be open to new ideas and initiatives.
Last week I wrote about the importance of informed voting in the upcoming election. While the primary focus is on debt and rates levels, it is equally important that our district's governors have vision and a strategy to take the community forward.
There are so many opportunities yet to be tapped and we have a core of expertise and talented people to capitalise on these. The ideas that will work might be from out of left field and some markets are yet to develop, so we need to keep thinking outside the box.
At the core of all of this is having a plan and determining where we want Wanganui to be in five, 10 ... even 25 years.
If our vision is to be innovative and if we actively arrest and turn around the root causes of population decline, maybe in a couple of years the headline will be "We're still number one for business growth - and house prices are through the roof".
It is up to us collectively to make this happen.
Call Zenith Solutions, Wanganui's specialist business advice and consultancy practice on 021 244 2421.