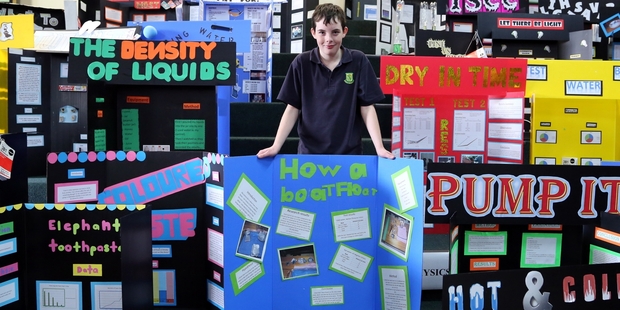 Wanganui Intermediate school had an array of student science projects on display for their science fair last week.
Twelve-year-old Taylor Watson completed a project on how boats stay afloat.
"I went on a cruise with my family last year and we went to Australia, New Caledonia and Vanuatu," he said.
"I wondered about how the ship stayed afloat and I was going to do some research, but I was too busy having a good time."
Taylor says he thought about it again when he needed to do the assignment and undertook some practical research as well as searching online.
"I made some boats out of clay but they all sank so I tried making them with cardboard and covered them with duct tape and added twenty-cent coins to see how many I could put in before they sank.
"Then I tried floating them in different water temperatures, and they sank faster when the water was warmer."
Teacher Colin Withers says the group of students were given an assignment to complete an investigation using a number of variables.
"They were asked to do repeat trials and keep a log book of their observations, then write a conclusion analysis and use statistics," he said.
There was a vast range of experiments including one which tested gender preference for different coloured jelly beans.
Mr Withers said the students not only increased their range of scientific knowledge, they also learned perseverance and self motivation.
Some of the exhibits will be submitted for the regional science fair, which will be held at Rutherford Intermediate Hall on September 26.