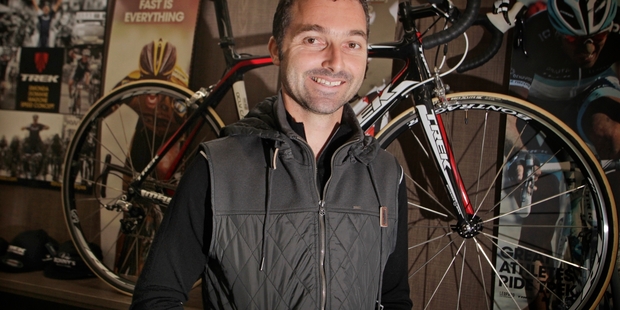 The New Zealand cycling team pushed another gear at the Commonwealth Games at Glasgow, all with the help of local son Dayle Cheatley.
Bike NZ's head coach was back home visiting family yesterday after an outstanding week for his team inside the Sir Chris Hoy Velodrome which had the sporting media trumpeting the success of the cycling programme.
The cyclists won a total of 15 medals - a third of New Zealand's total haul of 45.
Eleven of those medals were won in the velodrome under Cheatley's watch. Six were gold.
Auckland sprinter Sam Webster went from missing out on the London Olympics to earning two golds and a silver in a star-making turn in Glasgow, reaching goals his head coach had privately expected.
Now based in Cambridge at the national cycling centre, Cheatley said the games had been a huge learning experience for his squad and coaching staff.
"I think the Commonwealth Games lets you see where you are in the multi-sport environment."
To come only second to Australia in the cycling medals is an encouraging sign going into the 2015 World Championships and the 2016 Olympics in Rio, he said.
"Cycling is a healthy competition to come out at the right end of the scale."
After six months in one centralised base, Cambridge was starting to bear fruit although the plans for this current team had been in place well before then.
Improved programmes and facilities have been vital in New Zealand's success and Cheatley said they have been a long time coming.
"It's still a shame Wanganui didn't have it here 10 years ago."
Wanganui missed out to Cambridge for the national centre but Cheatley never forgot his home, working with his Wanganui cycling stalwart father Ron Cheatley to bring the New Zealand team to compete at the Cooks Gardens velodrome this February.
Expanding the roster, there were 17 Kiwi cyclists who went to Glasgow out of the 32 athletes in the wider track squad and Cheatley said no one's spot is assured.
"Underneath the main group we have riders pushing them so it creates a healthy competition."
Increased Government funding has also helped to ensure New Zealand has the resources to strive for gold.
"I think we're funded quite well, but with funding comes accountability."
Regarding his coaching, there has been no shortage of wise heads to turn, Cheatley said.
As well as his father, he was part of a NZ high performance collective of coaches who worked together in programmes, which included names like Black Caps coach Mike Hesson and All Blacks head Steve Hansen.
"We keep in contact with each other and chew the fat, peer-critique and get a different perspective."
The ability to finally have all national cyclists underneath one roof in Cambridge has also been a huge advantage.
"Having everyone in one location is only enhancing what we can do.
"You walk down the street and into the supermarket and you've got Olympics rowers there, cycling champions and triathletes and the town's got a lot of energy." As for future targets Cheatley said you can't predict what riders will achieve, but with each new benchmark the team has to ensure they "keep the hammer down."
John Boynton is an AUT journalism student on work experience at the Chronicle